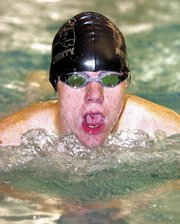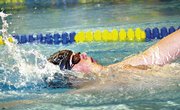 Steamboat Springs — Kyle Steitz and Cole Worsley of Steamboat Springs will be among seven swimmers representing the Moffat County swim team this week at the Class 4A state swimming championships in Fort Collins.
Steitz and Worsley travel to Craig during the season to compete with the Bulldogs because Steamboat does not have swim team. Last weekend, the pair played a key role in Moffat County's success at the Western Regional Championships at Fort Lewis College in Durango.
"They did really well and had some fast times," Coach Patti Worsley said.
Cole Worsley qualified to swim in four individual events and three relays at the state championships. However, rules limit the number of events swimmers can compete in to four. Patti Worsley said Cole would compete in his best events - the 50- and 100-meter freestyle and the 200- and 400-meter freestyle relays.
Steitz will compete in the medley relay, the 200-meter relay and the 400-meter relay.
Cole Worsley clocked his best time of the year in the 50-yard freestyle with a first-place time of 22.59 seconds. He came in second in the 100-meter freestyle to friend and rival Hayden Stanes of Durango. Cole finished in a time of 49.22, behind the 48.66 of Stanes.
"That was one of the most exciting races of the day," Patti Worsley said. "It has been a really strong rivalry. Cole took a second-and-a-half off (his best time of the year). It was an exciting race."
As a team, Moffat County finished fourth out of six schools at the regional championships. This week's state championships begin Thursday at the Edora Pool and Ice Center in Fort Collins.
Other swimmers who will represent Moffat County at state are Tyler Kalsow, Andrew Aultman, Brian Corey, Trenton Taylor and Donnny Penner.
Among the other top regional performances last weekend:
- The 200-free relay team of Kalsow, Taylor, Steitz and Cole Worsley came in third place at regionals in 1 minute, 37.94 seconds.
- The "B" relay squad of Penner, Nikk Warden, Chet Peterson and Corey dropped four seconds from their preliminary finish en route to a ninth-place time of 2:03.11.
- Steitz came in sixth-place in 2:03.04 in the 200-freestyle.
- The 400-free relay team of Kalsow, Aultman, Steitz and Cole Worsley dropped three seconds in its fourth-place time of 3:39.97.
- Swimming a personal best in the 100-meter backstroke, Taylor finished 11th in 1:09.71.