Steamboat resident honored for book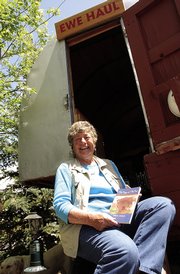 Steamboat Springs — Sureva Towler misses the days when a cowgirl could ride her horse into the bar of the El Rancho in downtown Steamboat Springs and order a couple of beers - one for herself and the other for the horse.
But that doesn't mean the award-winning author is reticent about the pace of change in Colorado's best-known cowboy ski town.
"It gives us new things to bitch about," Towler said. "And that's good."
Towler, who resides in a beautifully appointed garage in Steamboat's Old Town, recently won her fourth Colorado Authors' League award, this time for her April 2006 book "The Boys at the Bar," a collection of essays that were originally published as columns in the Denver Post during the span of four years.
She's previously won CAL awards for a couple of standalone newspaper columns. She also won for "Faster Horses, Younger Women, Older History," a 1996 history of the Routt County Fair.
Ostensibly based in Dry Lake, all of the columns comprising "The Boys at the Bar" actually originated in the El Rancho, which no longer exists. Towler swears the anecdotes are based on real people and conversations that really happened. If you've lived in Steamboat for a few decades, you might recognize yourself in the book.
One of her prize-winning columns begins: "A thousand Ashley's have moved into my town. They all have blonde hair with black roots, acrylic nails and faux Victorian houses with four-car garages crowned with caretaker apartments. They drive $80,000 Range Rovers and every one of them is born with a right of way. They fight boredom with bridge and menopause with golf. They read Larry McMurtry and desperately want to get (romanced) by a cowboy."
The feedback from that newspaper column convinced Towler that her tales of cowboys and other assorted hellions adjusting to sharing their watering holes with baby boomers and brie-eaters would resonate throughout the West.
"I offered it to 67 publishers and they all turned me down," she said. "Fortunately, Johnson Books in Boulder had the wisdom to pick it up."
Towler's writing style is resolutely irreverent. It's fine with her if anyone describes her as a snarky commentator, prone to being prickly and fiery. Just don't call her bitter.
"If I'm ornery, I'm laughing at the same time," she said. "I think the biggest change in Steamboat is that the laughter is waning. Or maybe I'm just saying that because I'm not skinny, blonde and 21 any longer." (Towler was never blonde.)
It's tempting for longtime residents to wring their hands about skyrocketing property values and redevelopment projects, Towler observed. However, she doesn't believe construction projects represent the true nature of change in Western towns.
"It's harder to slide into this community now, and I don't think it comes from the old-timers," Towler said. "It's attitude - how you feel about and care about the community. I think change comes when you expect your plumber to be radio dispatched. (Change is when) you're not baking banana bread and taking it to your neighbor."
- To reach Tom Ross, call 871-4205
or e-mail tross@steamboatpilot.com