Middle school art club paints mural at LIFT-UP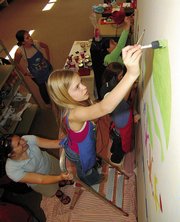 Steamboat Springs — Pam Graham stared at the light brown walls at the new LIFT-UP of Routt County building thinking they needed a little color.
Enter Laura Vermeulen and the Steamboat Springs Middle School after-school art club, whose members showed up Monday with nearly a dozen cans of paint ready to transform one wall of the food bank into a mural.
The middle school students painted for two hours Monday as part of the National and Global Youth Service Day. The mural's theme is "Jump Up for Lift-Up," and the finished mural will be a brilliant display of food with a globe encircled by people holding hands.
"I had in the back of my mind when we got settled to put color on the wall," said Graham, LIFT-UP's food bank and case manager. "This is great."
Vermeulen is the school-based mentor at the middle school. She was placed in the school by Partners in Routt County, which steers the AmeriCorps program in Steamboat. Vermeulen needed to plan and follow through on a service day to earn credit for her program.
Middle school students must log a certain number of community service hours because of requirements at their school. Eighth-graders must have eight hours of community service.
Eighth-grader Crystal Medina estimates she already has more than 10 hours.
Standing atop a ladder, painting a globe, seventh-grader Haley Orton said the middle school emphasizes giving back through community service.
"On our own time we can go to the animal shelter or do things like this," Haley said.
The community largely keeps LIFT-UP going, so it was the perfect place for community service, Graham said. The food bank, where the students were painting, accepts donations of unopened, non-perishable food items as well as personal items such as toilet paper or toothpaste.
Graham said the increase in demand since LIFT-UP moved into its new building on 2125 Curve Court is more than 20 percent.
"This community is very generous," Graham said. "Without it we would not be able to serve people."
Donation hours at the food bank are 1 to 5 p.m. Monday through Friday.