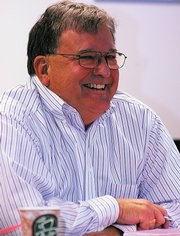 Steamboat Springs — For the first time in nearly five years, Colorado Mountain College is searching for a new president.
Robert Spuhler has announced plans to retire after five years as president and nearly 20 years working for CMC. His contract officially expires June 30, 2008, but the CMC Board of Trustees voted earlier this month to begin the national search for Spuhler's replacement.
"We are putting together a search committee with representation from all of our constituencies," said Doris Dewton, chair of the college system's Board of Trustees. "I look forward to seeing this group come together on the important task of determining the future of our college's leadership."
Spuhler's retirement could be postponed, if the board cannot hire a new president before Spuhler's contract expires.
The board voted at its May meeting on the Steamboat Springs Alpine Campus to allow Spuhler to remain as an interim president until Dec. 31, 2008, if needed.
"The board and I greatly appreciate the work Bob Spuhler has done in his 19 years with the college and in his nearly five years as president," Dewton said. "We're also appreciative that he's willing to be flexible on the start of his retirement, if we should require his continuing assistance."
CMC includes 20,000 students and campuses in nine counties, including communities such as Steamboat, Glenwood Springs, Leadville and Aspen.
Dan Hanin, a lawyer, is the Routt County representative on the board.