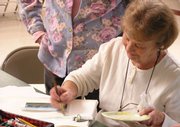 If you go
The following new classes will be offered by CNCC during Wellness Wednesdays. Registration forms are available at the American Legion, 1055 Moffat County Road 7.
The classes are free to Moffat County residents age 62 and older. Registration and fee information for other students is available by calling 824-1101.
• Basic Art (includes drawing and watercolor): 1 to 3 p.m., May 16 to July 11
• Walk for Fitness: 5:30 to 6:30 p.m., May 23 to July 18
• Creative Writing ("Scrapbooking Memories Inspired by Family Recipes"): 9 to 10:30 a.m., May 30 to Aug. 22
Nina Lawton carefully shades areas on her paper, looking up to study the bench on the table in front of her.
The finished work, which she proudly displayed to her classmates, was an image of the bench defined by the shaded or negative space around it - one of many techniques she learned during an art class held during Wellness Wednesdays in Craig.
The class not only has helped keep Lawton's mind sharp, it has re-introduced her to art - a subject she once taught to school children but hadn't pursued in about 35 years.
"It's something I've wanted to do for a long time : I definitely want to keep up my artwork," she said.
Learning new skills and activities to maintain and improve participants' quality of life is the goal of Wellness Wednesdays, a weekly program sponsored by the Visiting Nurse Association's Aging Well program.
Keeping busy is not a problem. Aging Well activities and Colorado Northwestern Community College classes are offered throughout the day at the American Legion in Craig.
Ongoing Aging Well activities - free to all participants - include a popular fitness class from 10:30 to 11:30 a.m. where students learn better posture as well as movements to alleviate stiff arthritic joints.
Instructor Nicki Parks integrates light weights and bands into the class to improve students' upper body strength and also coaches them on where their heart rates should be during exercise.
She demonstrates varying levels of intensity to ensure students of different ages and abilities - including those who rarely exercise or have never been in an exercise class - are comfortable.
"The goal is feeling better, standing taller and getting joint mobility back," Parks said.
Participants also enjoy low-impact water exercise on their own during open swim in the American Legion pool from 3:30 to 7 p.m.
Answers to health-related questions are available during the Senior Wellness and Ask a Nurse clinic from 10 a.m. to noon. VNA registered nurse Jean Jones also checks seniors' blood pressure and blood glucose levels and assesses their weight, medications and other health issues.
At noon, the Aging Well program provides participants lunch and the opportunity to listen to presentations on many health and lifestyle topics, such food safety, gardening and legal and financial issues, given by local professionals and Colorado State University extension agents.
Through a partnership with CNCC, Wellness Wednesdays also offer additional fitness opportunities as well as classes that appeal to participants' creative sides. College policy allows Moffat County residents 62 and older to take courses free of tuition or fees, though they are responsible for material costs.
Lawton and other students learned to write memoirs in a creative writing class during Wellness Wednesdays. One of the best aspects of both the writing and art class was getting to know others through their work, she said.
"Everybody shares, and it is so much fun : Everybody is unique and different - it's terrific," Lawton said.
A new Basic Art class and creative writing class focused on scrapbooking memories will start this month as well as a new walking class. Registration is required for all CNCC activities on Wellness Wednesdays.
"We really encourage other seniors to come take part - it makes it more fun," participant Betty Cook said.
Program schedules are published every Monday on the Aging Well page in the Craig Daily Press and Steamboat Today and also are available at www.nwcovna.info/aging_well.html.
For more information, or to suggest new activities or give feedback on current programs, leave a message for Cathy Vanatta at 871-7676.