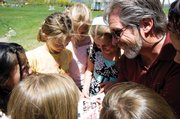 Steamboat Springs — The search to find Strawberry Park Elementary School's new principal has begun.
Mark MacHale's resignation last week created an administrative vacancy at one of the Steamboat Springs School District's highest performing schools, and making sure a strong leadership team of principals is in place to guide district schools "is critical," Steamboat Springs Superintendent Donna Howell said.
Ideally, Howell would have had the entire year to go through an extensive search and interview process, which she had when she hired MacHale to replace longtime Strawberry Park principal John DeVincentis two years ago.
Instead, the top candidates to fill the vacancy at Strawberry Park will take in-school visits within the next month, although Howell said she is not going to compromise finding the right person.
"I've learned you go through this process and people will come to the top," Howell said.
Howell met with Strawberry Park staff members Friday morning, so they could go over their wants and needs in a principal.
Howell also plans to involve parents and students in the search process because she believes feedback from others is important. Howell, who has hired 20 principals in her 20-plus years as a superintendent, will make the final decision.
But hiring a principal in Steamboat presents unique challenges.
"There is a growing shortage of qualified candidates, especially for Steamboat," Howell said. "Ideally, you want someone who has experience. It is a high-performing school. And, there is cost of living."
MacHale, who is leaving Steamboat to be superintendent with the Dolores School District in southern Colorado, believes principals should be visible members of a school. On Friday, he knocked the soccer ball around the playground a bit before signing yearbooks at recess.
MacHale hasn't signed a contract to become superintendent in Dolores, but the Dolores School Board has offered him the job, and he has informed Howell he is leaving when his contract expires at the end of June.
"It was never my intent to leave after two years," MacHale said. "The reason I became a principal is because I knew I could make a difference on a larger scale. The same is true with superintendency. It's always been in the back of my mind."
MacHale said the one word he kept hearing during his interview was "potential," so he is excited about leading the Dolores School District.
"It's a good fit with the board and myself," MacHale said. "We have a lot of the same goals, and the board really understands where they want to go."
The district began advertising for the Strawberry Park principal position last week. As of Friday, the district had not received any applications, but Howell has received one inquiry from outside Steamboat.
Both Howell and MacHale said the new principal will have several important issues to deal with.
"We are experiencing some changing demographics," MacHale said. "We've grown by almost 100 students in two years.
Strawberry Park also is scheduled to undergo a renovation and expansion beginning next month. Construction is expected to spill into the school year, thus impacting students. Howell said managing the disruption will be important.
Other important issues facing Strawberry Park's new leader are finding a way to maintain and increase performance at an already excellent school and developing strong relationships with the staff, many of whom will have worked for three principals in five years.
- To reach Melinda Mawdsley call 871-4208 or e-mail mmawdsley@steamboatpilot.com