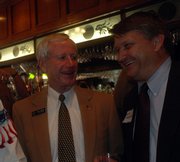 Steamboat Springs — The campaigning has begun for Colorado's next vacant seat in the U.S. Senate.
Speaking to Routt County Republicans at the Old Town Pub & Restaurant on Saturday night, Colorado Republican Party Chairman Dick Wadhams touted Fort Collins Republican Bob Schaffer, a former congressman, as the GOP candidate for the seat currently held by Republican Sen. Wayne Allard of Loveland.
Colorado Secretary of State Mike Coffman, who also spoke at the local Lincoln Day Dinner fundraising event, said he expected Schaffer to formally announce his candidacy in Boulder County on Saturday night.
Such an announcement would not be a surprise - Republicans in Teller County say Schaffer revealed his intentions at their Lincoln Day Dinner earlier this month.
Saturday night in Steamboat Springs, Wadhams stressed the importance of a Senate race that he hopes will swing Colorado's political pendulum back to the right, after a series of recent Democratic victories.
"The last two (election) cycles in Colorado have been horrible," Wadhams said. "We had a lot of bad news in 2004, and especially in 2006. In 2008, it will be time to get back up off the mat and back in this game."
Democrats currently hold the governorship, majorities in the state House and Senate, one of two U.S. Senate seats and four of Colorado's seven seats in the U.S. House of Representatives.
Should he run for Senate, Schaffer would likely square off against U.S. Rep. Mark Udall of Eldorado Springs.
"The contrast between Bob Schaffer and Mark Udall in this race will be sharp, and it will be clear," Wadhams said. "That's how we won the Senate seat in the first place."
Wadhams orchestrated victories for Allard in 1996 and 2002. Wadhams said a similar campaign - with emphasis on all 64 counties and mainstream Republican values - could bring Schaffer to Washington, D.C.
"It is not rocket science how to win elections in Colorado," Wadhams said.
Wadhams also focused on a state Senate seat that will be open in Northwest Colorado in 2008, when Republican state Sen. Jack Taylor of Steamboat Springs will be term-limited.
State Rep. Al White, R-Winter Park, told Saturday's crowd of about 40 that he is "giving strong consideration" to running for Taylor's spot at the Capitol.
"We cannot take back the state Senate if we don't keep this seat," said Wadhams, who added that partisan change at the Capitol might not be a quick process.
"I don't know that we can win either house back next year," Wadhams said. "But we have to win the Legislature back in 2010."
Coffman spoke to the Routt County crowd just weeks after he placed Routt County on the state's Election Watch List, as a result of the local election difficulties in November 2006. Coffman said he is confident such difficulties will not reoccur, and he praised the work of Routt County Clerk and Recorder Kay Weinland.
"Kay has done a great job for Routt County," Coffman said. "I stand shoulder to shoulder with her."
Coffman earned hearty applause for his address, which dealt primarily with his service as a U.S. Marine Corps civil affairs officer in Iraq in 2005 and 2006.
After following Coffman's remarks with a fiery message of Republican revitalization, Wadhams received a standing ovation.
"It's easy to get fired up when you listen to Dick Wadhams," Taylor said. "Being in the minority is not fun - we're going to change that."