Sailors struggle on final day
Photo Gallery
2007 4A Tennis State Finals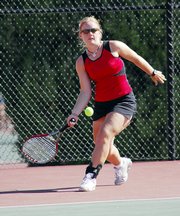 Pueblo — It was difficult to tell whether the tears in Breanne Murray's eyes after Saturday's final round were brought on by her championship match loss or the realization that her high school tennis career was finished.
"You have to have fun with it : You only get four years, and it goes by so quickly," Murray said. "I'm kind of upset that it's over, but it was good."
Murray came within one set of making her final high school tennis match the best of her career. She defeated Cheyenne Mountain's Mary Russell in the first set, 7-5. But with Russell's back against the wall, Murray said the emotion and pressure of the moment got to her.
"At the end of the first set, I was smiling, and I was excited," Murray said. "I needed to settle down a little more. I was a little excited, and I hit a few things here and there out."
Russell took advantage of the Steamboat player's generosity to even the match with a 6-0 win in the second set. In the third set, Murray went to an aggressive attack, hoping to beat Russell at the net.
But Russell responded with an effective lob that Murray couldn't adjust to.
"It was a different style of play than I saw the rest of the tournament," Murray said. "I think I started to figure it out at the end, but it was too late to get back in the match."
Russell, who had lost only three games heading into Saturday's No. 2 singles state championship match, won the third set, 6-2, to take home the title. Her win also capped off a dominating performance by Cheyenne Mountain in the overall team standings.
Cheyenne Mountain finished with 83 points. Greeley West was second with 49.
Steamboat entered the day in third place, just two points ahead of Niwot for third place in the team standings. The Sailors needed only one win out of their three final matches to secure at least a tie for third place overall.
But Saturday just wasn't Steamboat's day.
No. 1 singles player Lisa Floyd lost to Fountain Valley's Clarke Tatje, 3-6, 6-7 (5) and 6-2.
"I definitely had a chance to close it out, and I didn't," Floyd said. "I guess I stopped moving my feet, and I lost focus. But I'm not too disappointed. This is the first medal our team has gotten at No. 1 singles."
Floyd said the mental pressure of putting the Fountain Valley player away in the second set got to her.
"I was just thinking, 'Finish it point by point : you got to just keep fighting,'" Floyd said. "But I think I let her get into my head a little bit."
Floyd finished fourth in the No. 1 singles slot - the best finish ever by a No. 1 singles player from Steamboat. Cheyenne Mountain's Casey Wetzig won the bracket after making quick work of Greeley West freshman Mattison Sperry in the finals, 6-0, 6-0.
Steamboat also lost a head-to-head match with Niwot at No. 3 singles. Shelby Reed won the first three games of her match but was then swept, 6-3, 6-0, by Niwot senior Allyson Lee.
"In the beginning, she was hitting the ball, but then she started lobbing it back," Reed said. "There was nothing I could do."
Sailors coach John Aragon was disappointed his team couldn't hold on to third on the final day, but he was proud of the overall effort.
"At this level, you got to play to win," Aragon said. "Our players were playing not to lose, and you just can't do that. But our players left everything on the court, and that's all you can ask. We ended up fourth, but it was a good season. I want to thank the players, parents and community for another terrific season."