A place to call home
Business leaders stress need for affordable housing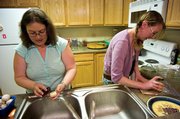 Learn more
For more information about local affordable housing, call the Yampa Valley Housing Authority at 870-0167. The next Homebuyer Education class is May 19.
Also, the Steamboat Springs City Council is scheduled Tuesday night to continue its discussion of revisions to the city's inclusionary zoning ordinance, which regulates how the city provides affordable housing. The meeting begins at 5 p.m. at Centennial Hall on 10th Street. The housing discussion is not likely to begin until after 6:30 p.m.
Steamboat Springs — The stuffed chicken breast was great, but it wasn't the best part of dinner Thursday night for Anne Davidson.
The best part was where she cooked the meal.
"It was very, very nice to be able to cook in my very own kitchen," Davidson said.
A 27-year-old severe needs teacher at Strawberry Park Elementary School, Davidson has always been a renter. That changed April 19, when she closed on the purchase of one of the last available condominiums at Fox Creek Village, a Hilltop Parkway development built by the Yampa Valley Housing Authority.
"With the cost of rentals in this community, I felt it was essential to buy, while I could, to be able to afford to stay here," Davidson said.
As a second-year teacher with a graduate degree, Davidson makes about $36,000 a year at Strawberry Park.
She bought her 900-square-foot, two-bedroom, two-bathroom condo for
$181,500. Davidson shares her condo with roommate Cassandra Novotne, who works as the director of marketing for Portfolio Publications, an art gallery on Oak Street.
The condominium is subject to several deed restrictions - its appreciation has a 3 percent annual growth cap; Davidson can sell the home only to a locally employed, Routt County resident who shares her income bracket; and she cannot live somewhere else while renting the condo for more than one year out of five. Davidson said the value of ownership far outweighs the restrictions.
"When I made the decision, I knew that I was not buying a home to make money at the current market rate," she said. "But it's a really good investment because I can save the money I put into my home, which is always worth it."
In other words, she has escaped the monthly ritual of watching rent payments swirl down the drain. Before moving into her new home at Fox Creek, Davidson rented two bedrooms in a townhouse for $650 a month.
"I'm very glad that I was able to get into the market now, when I could," she said.
A long, hard look
Greg Dixson, regional manager for First National Bank of the Rockies, said finding employees is his bank's "No. 1 concern." Dixson knows he is not the only Steamboat Springs employer with that dilemma.
"We all share the same problems," he said Wednesday at a luncheon panel that was part of the Workforce Forum Series hosted by the Steamboat Springs Chamber Resort Association. "I can tell you with confidence that we need to help the Housing Authority - you can't make $12 an hour and buy a house in Steamboat."
But that kind of wage is the norm for hundreds of local workers in service, retail and labor industries, which are growing as fast as the local housing boom.
"We've doubled in size in the past year to meet the demands of all these (development) projects," said Bob Frank, a construction manager with Landmark Consultants. "It's hard to get a middle-aged, professional worker with a family to come to Steamboat."
Frank said that although Landmark provides rental housing and transitional hotel rooms for employees along with per diem expense payments and even free season passes to Steamboat Ski Area, there still is about "a three-year turnover" because employees realize they can't afford to live in Steamboat permanently.
The turnover also is pronounced at Yampa Valley Medical Center, which employs more than 550 local workers.
Michael Turner, director of human resources at the hospital, said 20 percent of the hospital's staff has worked there less than a year.
"The majority of our employees who leave, leave because of economic issues," Turner said. "For us, it's a quality of care issue."
Despite the high turnover, two nationwide studies recently honored the hospital for excellent service. Turner said the hospital rents 90 units of transitional, employee housing in Steamboat and is "trying to develop the workforce that is already here" through classes and training.
Kathy Coates is an administrator with The Industrial Company, or TIC. Coates said her company also provides rental condominiums and hotel rooms for employees, especially during a recent influx of consultants brought to Steamboat from across the country and overseas to install a new information software system.
But Coates said TIC, which is expanding its office space on Routt County Road 129, "is not always winning" battles for skilled professionals in an increasingly global job market.
"We have had people turn us down because of housing," Coates said. "I think TIC will take a long, hard look at whether we will continue to build here. Our information systems can be housed anywhere."
'Gut-check time'
Dixson said local support and funding for affordable housing will require sacrifices in other areas - such as a new recreation center, currently under consideration by the city at a cost that could exceed $30 million.
"It's gut-check time," Dixson said. "This is a community that wants amenities. We've got to kind of check that 'I want' attitude and maybe put those resources towards housing. Maybe a rec center can wait - I'd rather pay a property tax for housing than for a rec center."
One panelist at Wednesday's forum said his business has not been significantly affected by housing concerns.
"I don't recall ever having an external candidate say 'No, we're not coming,' because of the housing," said Mark Bryden, president and general manager of SmartWool, a merino wool sock and apparel company that generated more than $50 million in revenues in 2006.
Bryden added that housing needs can "create drive in employees, to accelerate their careers and make more money."
But other panelists, including Steamboat Ski and Resort Corp. human resources vice president Trish Sullivan and Colorado Resort Services vice president Kathy Connell, overshadowed Bryden's comments.
Sullivan said potential employees have turned down full-time positions with Ski Corp. because of housing.
Connell added that the housing dilemma is not only about permanent homes.
"One thing that is not being talked about is how out-of-sight the cost of rentals has become," Connell said. "What we do not have here is affordable apartments - try finding any place in Steamboat that you can rent and have a pet."
Margaret Berglund, of Western Colorado Congress and Community Alliance of the Yampa Valley, cited potential negative effects of a work force that increasingly lives in Hayden, South Routt or Craig instead of Steamboat.
"The less of our work force that lives in the community, the less of a quality community you have," Berglund said. "We're going to lose that asset."
Where should we sit?
Davidson said she plans to stay in Steamboat.
And she loves her new condo.
"I like that I can make it my own and that our complex seems to be a very welcoming community. We have a great location," Davidson said.
She added that "making it her own" is an ongoing process.
"We have a kitchen table, but no chairs," she said. "We haven't quite gotten to solving that problem yet. We're still literally in the 'stacks of boxes' stage."
Davidson said other local workers soon could be packing boxes, not unpacking them.
"With the market growing the way it is, and the high need for affordable housing, I fear that the professionals that are essential to this community will not be able to live here very long," she said.
- To reach Mike Lawrence, call 871-4203
or e-mail mlawrence@steamboatpilot.com