Hutson's 400 finish highlights finals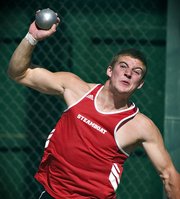 Grand Junction — Steamboat sprinter Tyler Hutson joked that a little bit of his skin probably was still left on the Stocker Stadium finish line after a rough tumble at Friday's 200-meter preliminary dash of the Class 4A Regional Track and Field Championships.
"I blacked out, went limp and woke up on the ground at the finish," Hutson said Saturday, sporting a large bandage over his right shoulder.
Fortunately, Hutson also woke up with a qualifying time for Saturday's 200-meter finals to go along with his No. 3 seed for the finals of his favorite event, the 400.
Unfortunately, the junior woke up feeling "like I got hit by a bus."
Hutson felt quite a bit different after his 400 race - one that earned him a third-place finish and a qualification for the state championships Friday and Saturday in Jefferson County.
"It feels awesome," Hutson said, knowing exactly where he can improve before state. "Usually I hold until 250 (meters), but I went a little early at 200. But this was a tough field, we were within 5/10 second of one another."
Hutson followed it up with a respectable finish in a tight 200 field, where the top seven finishes crossed the line in the same second. Hutson finished fifth in 23.71 seconds.
Matt Hill was the only other podium finisher for the Sailors on Saturday, finishing third in the 1600 - an event he had pre-qualified for earlier in the season.
"That was pathetic - I can do a lot better than third," Hill said, knowing he now has only one more chance to meet his goal of breaking the school record in his best event. "I was too relaxed, I just have to get my head on."
Other Steamboat athletes will not have that final chance. Saturday brought an emotional end to a few Sailors' hopes for state after a Friday that produced five state-qualifying times.
Lizzie Stoll could not match the personal best she threw in the discus the previous week, failing to make it to the finals, and Colby Kostur missed his chance to make it in the triple jump by less than 4 inches.
"I wasn't supposed to make it - I was seventh or eighth going into finals," Kostur said. "I'm disappointed. It's frustrating to finish in fourth by 4 inches."
For the Sailors who did qualify Friday, the lessened pressure allowed them to perform loose and score team points.
"I still really wanted it, but it was a far stretch with the girls that were a foot ahead of me," said Lauren Marias, who finished fifth in the long jump.
Still sore from a dramatic finish in the 3200 meters to end Friday's events and earn her a trip to state, Brittany Long was content to finish sixth in the girls 1600 and continue working on her mile pace. Freshman Shane McLean surprised the first-flight field of the 1600, winning easily in 5:49.73, two seconds behind Long for seventh overall.
Westin Cofer could not outdo Palisade's Alex Hays. For two days in a row, Hays won the shot put, and Cofer took eighth.
Other athletes scoring on Saturday for the Sailors included Jake Stanford (sixth in triple jump), John Cutter (10th in the 1600) and Kostur (sixth in high jump). The boys 4-by-400 team of Dylan Pivarnik, Lee Wren, Hutson and Hill took seventh, and the boys 4-by-100 team of Austin Hinder, Cole Krahenbuhl, Stanford and Garrett Brew took eighth.
The Steamboat boys finished sixth in team rankings, and the girls took ninth. Ten teams competed.