Soroco students beautify Oak Creek for AmeriCorps Youth Service Day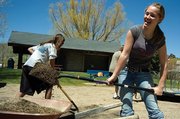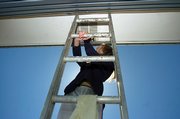 Steamboat Springs — Lottie Turon has spent her fair share of time balancing on a ladder to paint houses, but Tuesday was the first time the Oak Creek resident had four young helpers to aid in the task.
As part of the global Ameri-Corps Youth Service Day, a group of Soroco Middle School students spent the day raking sand at Decker Park, helping with maintenance at four Oak Creek homes, painting curbs on Main Street, picking up trash, trimming trees and sanding deck railings.
Turon and her husband, Joe, were grateful the teens spent the time to help them with their home.
"They're ambitious," Joe Turon said as he adjusted a ladder for a student. "It doesn't seem to bother them too much to get up there."
Eighth-grader Alex Smith said she was happy to help paint the Turons' home, especially because she spent the day picking up trash last year.
"I like that we can help people in our community," she said. "I bring back a sense of community with me because we all know we're there for each other."
Cristie Scott, the Ameri-Corps mentor for Soroco Middle School, said organizing the students' projects was easy because they were so excited to spend the day outside helping beautify the community.
"I think it's good for the students to have tangible community service projects that they can be proud of that are apparent to them and the community," she said.
Scott said Soroco students are used to hard work, which helped them with some of the more laborious tasks such as hauling and moving mounds of gravel at Decker Park's playground.
"They all put so much effort and pride into their projects," she said. "They're very respectful in meeting the needs of the community that often are overlooked."
Lottie Turon agreed.
"Boy, we're fortunate, aren't we? You bet," she said. "They're doing such a good job - they're neat, they don't slop it all over the place or dump it everywhere. They're really good."
Hayden and Steamboat Springs middle schools also participate in Youth Service Day activities in their communities.
- To reach Alexis DeLaCruz, call 871-4234
or e-mail adelacruz@steamboapilot.com