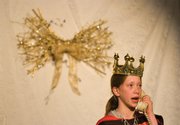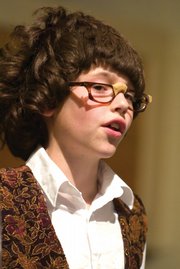 If you go
What: Oak Creek's Totally Amazing Drama Adventure presents "Sam and the Serpin Snake"
When: 7 p.m. Monday
Where: Soroco Middle School auditorium
Cost: $5 for adults; free for students and children
Steamboat Springs — When Bea Cole realized there weren't many opportunities for South Routt's child actors to perform, she started her own company to provide a stage for the young thespians.
Now in its second year, the second- through seventh-graders who attend Cole's company - Totally Amazing Drama Adventure, or TADA - are preparing for their third performance Monday.
"Over the last two years I've noticed that there aren't enough actors in South Routt, especially men," Cole said during a dress rehearsal Thursday for "Sam and the Serpin Snake." "I knew the only way to change that is to get (the students) hooked on acting and drama when they're young. My hope is that I've put the bug in them to pursue their acting dreams."
Monday's performance of "Sam and the Serpin Snake" is a "feel-good" comedy about a snooty royal family obsessed with material goods and making money. However, after the king raises taxes, he is robbed and his outcast son, Sam, is turned into a hero as he ventures from his kingdom to retrieve a scale from a dragon to save his family and the townspeople.
While there are serious messages that can be absorbed from the play, it's also funny and appropriate for viewers of all ages, Cole said.
Kira Pattillo, a seventh-grader at Soroco Middle School, has three roles in the play - as a reporter for the Transylvania Times, a peasant and a creature called a gloomba.
"It's a very, very, very funny play, so you definitely need to bring your sense of humor," she said Wednesday. "And pay attention, because the play skips around a lot."
Kimberlyn Cole, Bea Cole's daughter, is one of the snotty princesses, a role Kimberlyn said she is familiar with.
"I'm usually the evil person in these plays," she said. "It's easy for me."
Bea Cole agreed.
"For the show it's all about being big - big emotion, lots of drama," she said. "These kids have snot down pat. It comes easy to them because they're in middle school."
Cole said students who participate in TADA receive ongoing classroom instruction on how to be dramatic and then apply those lessons to the two plays the group puts on every year.
"The lessons culminate in the production," she said. "This year, they begged me to make a big deal out of it."