Tom Ross
Tom Ross' column appears in Steamboat Today. Contact him at 970-871-4205 or tross@SteamboatToday.com.
Find more columns by Tom here.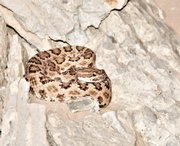 Steamboat Springs — It wasn't the rattler that broke Ron Knaack's hip - it was the dang jug-headed horse.
Maybe you saw the photograph in the May 9 Steamboat Today of a 65-year-old man in a hospital gown holding up the freshly amputated rattles of a mature buzz worm.
Michelle Perry of the Craig Daily Press took the photo and wrote an engaging story that explained how the man from Honolulu acquired the rattler's rattles. It was a good read.
Long story short, Knaack was one of almost 40 dudes who signed on to take part in Sombrero Stables' annual horse roundup out in Brown's Park, which is known to house more than a couple of rattlesnakes.
Knaack, who told Perry he is "an old cowboy at heart," was mounted on a horse that spooked when it passed close by a rattler. Knaack went flying and busted his keister.
Leave it to a guy from Hawaii to blame it on the snake. It's widely known that there aren't any snakes that are native to Oahu.
After he became painfully separated form his steed, the Hawaiian cowboy asked the Sombrero wranglers to bring him the Rattler's rattles in the hospital. They obliged him.
Now don't misunderstand me, I'm not crazy enough to lecture a cowboy on how to deal with diamondbacks. Some of my closest friends and relatives have dealt harshly with rattlesnakes. My own dear mother (happy Mother's Day, Mom) was known to kill rattlers as a girl while horseback riding with her cousin Jean in Central Oregon.
I have an old buddy who grew up golfing in Montana. Every golfer in Billings carries an extra golf club in his or her bag - you've got to have a snake iron to coax the rattlers off the greens before you can putt out.
My grandfather, Floyd "Brownie" Ross, kept a number 10 mayonnaise jar stuffed with rattles on the counter of his general store. The snakes didn't donate their rattles to his collection.
But doesn't it strike you that it would have made more sense for Knaack to ask for an apology from the horse than to seek the murder of the snake? The rattler was just saying, "Excuse me sir," in his own peculiar fashion when the horse went bananas
Maybe it's just that I'm envious because I've never seen a live rattlesnake in Northwest Colorado. It's giving me a complex. Just last week, one of the newest members of our staff informed me that he was going hiking up Mad Creek. I advised him to keep an eye out for snakes, and sure enough, he spied a rattler coiled on a rock.
The kid is from Texas, so I'm pretty certain he knows what he saw. When is it going to be my turn?
I once saw a rattlesnake in the middle of Yampa Street. He was really dead. And that was a long time ago.
Judging by Knaack's trophy, the snake that didn't bite him must have been mature. I counted eight buttons on the rattle, and because mature snakes often rub buttons off in the rocky terrain they inhabit, they rarely grow more than 8 to 10 buttons.
I saw my first live rattlesnake just this spring at a campsite along the Colorado River in the Grand Canyon. The experience was anti-climactic.
The snake was so cold it didn't even bother to rattle at us when we approached it. He just sat in a tight coil and prayed we would leave him alone. He looked directly at me with his beady black eye, and I imagined he was thinking, "I sure hope those ugly, unshaven dudes packed enough food in their coolers. I don't want to be chopped up, rolled in corn meal and dipped in hot oil."
Life is hard for persecuted rattlesnakes.
If you've got a good Routt County rattlesnake story, look up this column at steamboatpilot.com and post it for the rest of us to enjoy.