Preliminary successes highlight Hayden's regional track run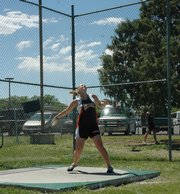 Grand Junction — Hayden track coach Kevin Kleckler was pleased with his team's performance after day one at the Class 2A Regional Track and Field Championships, Friday in Grand Junction, but knows his athletes' top showings will surely be today.
"For us, it was mainly a preliminary day today with finals in only a couple track events and in a some of the field events," Kleckler said.
Although Hayden had some success in these finals events - Laura Zirkle finished sixth in the 3200-meter run and Emily Whiteman finished seventh in the discus to score for Hayden - Kleckler's hopes for today were founded on the Tigers' tremendous success in Friday's preliminary rounds.
Jake Walker and Billy Zehner both walked away with second-place finishes in their respective events, the 100-meter dash and the 110-meter hurdles, but had opposite theories when it came to preparing for their bids for a top-three finish and a trip to the state meet, May 18 and 19 in Pueblo.
"I was nervous, but I pulled through, kind of had the tunnel vision and got my best Accutrak (timing machine) time (11.67 seconds)," Walker said. "I'll probably go to sleep early and rest up for tomorrow."
Zehner, on the other hand, vowed to, "stay up late again playing Guitar Hero II."
Hayden's other runners will surely seek some rest after a long day on a hot track.
"It's gonna suck to have to run again tomorrow after running in this heat - it really drains me," said Zathan Bark, who took sixth, tying his personal best time in the 100-meter dash and is looking for a big day with his No. 1-ranked 4x100-meter relay team.
Bark also qualified seventh in the 400-meter dash and will join Walker as well as Coy Letlow, who finished fifth, in a 100-meter dash final stacked with Tigers.
Other notable Hayden finishes included Kirsten Miller's sixth-place preliminary time in the 100-meter hurdles, where Caitlyn Mahanna and Bryanna McFadden finished eight and ninth, respectively. Maddison Kopsa finished eighth in the triple jump.
"It's amazing with some of these young kids that had their best performances as 14- and 15-year-olds competing against 18-year-olds," Kleckler said. "I'm super-optimistic about (today)."