Curtiss receives Wal-Mart Teacher of the Year award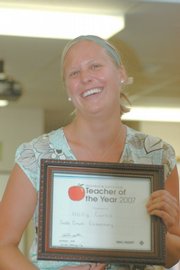 Steamboat Springs — While Soda Creek Elementary School teachers and staff were honored all week during "Staff Appreciation Week," one special teacher received an honor Friday she wasn't expecting.
Third-grade teacher Holly Curtiss couldn't help but blush as Principal Judy Harris informed her and a group of her colleagues that she had been named Wal-Mart's 2007 Teacher of the Year for Routt County.
"Thank you, Holly. It's very well deserved," Harris said. "It's an amazing honor for Holly and our school."
Curtiss agreed.
"I had no idea," she said. "I'm really excited, but this is only because of my kids. They're the ones who did this."
During Friday's brief but emotional presentation, Curtiss was given a framed certificate, a $100 Wal-Mart gift certificate and an embroidered "Teacher of the Year" blue polo. In addition, Soda Creek Elementary School received a $1,000 Wal-Mart gift certificate.
Connie Fry, personnel manager at Wal-Mart, said Curtiss was a clear choice for this year's award.
"From the nominations we received for all the teachers in (Routt County), Holly stood out as more exceptional than any other," she said. "She just seemed to be such a caring person, and that's what stood out in her teaching."
The Teacher of the Year program is a national contest that all Wal-Mart stores participate in, Fry said.
Customers are asked in January and February to nominate teachers, and then one teacher is chosen by a panel of Wal-Mart employees who review the nominations, Fry said.
"We're very proud to support our schools because they need it," she said. "That's our future."
Harris said Friday's announcement was the culmination of the school's Appreciation Week, during which staff was treated to breakfasts, snacks, coffee, personalized note pads, donated gift certificates from Mambo Italiano and Cantina and chair massages.
Both Harris and Curtiss agreed that the honor was a reflection on the community.
"We'd like to thank the community for having such great kids," Harris said. "We know we all have to work together for the best of the kids."