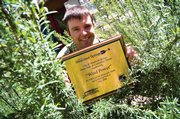 On the 'Net
Read the city's Sustainability Management Plan by searching "sustainability" on the city Web site at www.steamboatspri...
Steamboat Springs — Gavin Malia thinks keeping Steamboat Springs environmentally sustainable should be a full-time job.
Malia is the city's geographic information systems coordinator. He also volunteers as chairman of the city's Green Team, which has a budget of $20,000 a year and created a Sustainability Management Plan adopted by the Steamboat Springs City Council in August. The plan emphasizes "top-down" concepts such as environmentally friendly management and construction policies, and "bottom-up" practices such as improving light fixtures and air-conditioning units. Other Green Team accomplishments include the purchase of renewable energy credits for Centennial Hall and Howelsen Hill, a practice that could soon cover electricity generated at all city facilities.
But a full-time, salaried leader is needed for the Green Team to grow, Malia said.
On Tuesday, Malia and Deputy City Manager Wendy DuBord will recommend that the City Council fund a full-time sustainability coordinator - a new city staff member charged with implementing the Sustainability Management Plan throughout not only city facilities, but also Steamboat Springs, Routt County and even Northwest Colorado. The proposed cost of the position - between $80,000 and $100,000, paid from the city's general fund - includes salary, benefits and space for an office or workstation, according to the request submitted to the City Council.
DuBord said Friday that the recommendation comes after an internal study of the Green Team, requested by the City Council.
"The Green Team was asked to discuss what their highest priorities are and what they think should happen to the Green Team in the future," DuBord said. "They think the next step is to make it a community-based organization."
Momentum for conservation and energy-efficiency efforts is gaining speed in Steamboat. Several community groups hosted this week's sustainability-themed Economic Summit 2007, which brought a cavalry of environmental experts and vendors of "green" products to the Steamboat Grand Resort Hotel.
The green movement is hitting home for Malia, who witnessed the birth of his son April 22 - Earth Day.
"It was quite a coincidence," Malia said with a smile.
Malia declined to say whether he would pursue the coordinator position, should it become available.
Several Colorado municipalities already employ a sustainability coordinator or someone with a similar role. The city of Boulder has four sustainability coordinators, one each for transportation, commercial and industrial, residential and climate-related programs.
Malia hopes Steamboat will start with just one.
"There is a widely held feeling that our community is at risk economically, environmentally and socially," reads the request prepared by Malia and DuBord. "Rampant local growth, the acceptance of climate change and the challenges it presents along with the uncertainty of future energy markets have created a ground swelling of interest toward preserving the community and our natural surroundings we currently cherish."
The city recently took a significant step outlined in the Management Plan.
Monday will be the first day at work for Steamboat's new facilities manager, Bob Robichaud. A Steamboat resident, Robichaud previously worked as director of facilities for Colorado Mountain College, the U.S. Coast Guard in Baltimore and at two colleges in Boston.
Hiring a staff person to improve the efficiency and maintenance of city facilities is a need identified by the Green Team.
"He has a lot of experience in energy management, environmental compliance, capital improvements and energy-efficient design," DuBord said of Robichaud. "We're excited, and very, very happy to have him."