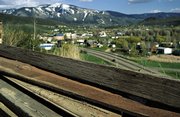 Is your lot worth more than your house?
The Routt County Assessor's Office is in the midst of fielding inquiries and appeals from property owners about their valuations. Property owners have until the end of the month to appeal.
Begin the process by stopping by the office and asking for help viewing the comparable sales used to value your property. If you've kept records of comparables yourself, so much the better. Also, if you believe your house is smaller than what is described on the valuation notice, take steps that would help you prove it.
Kerrigan said the two most likely paths to a successful appeal are if the property owner can uncover comparables that were overlooked, or if they can uncover an inadvertent mistake in data entry that results in an incorrect description of the size of the house. Appeals that aren't based on fact are not likely to succeed. For more information, visit www.co.routt.co.u...
Is your lot worth more than your house?
To answer this question, visit www.co.routt.co.us/ and click on the link for the Assessor's Department. Then use the link for an assessor/treasurer property search. Your account number is easy to spot on the value notice you received in the mail. Enter the number in the window and click on parcel detail. Scroll down to see how much you paid in taxes in each of the past 10 years. Some people paid more in 1997 than they did in 2006.
Go back to the top of the page and click on the link "value detail." There, you'll quickly spot the relative values of your lot and the "improvements" - i.e., the house that sits on your land.
Steamboat Springs — Property owners in Steamboat Springs are adapting to the news this month that valuation of their real estate for tax purposes has increased dramatically during the past two years. In some cases, property owners' building lots are more valuable than their houses.
Despite the increased valuations, a flood of protests has yet to materialize at the Routt County Assessor's Office.
"People who own property in this county are pretty astute," Routt County Assessor Mike Kerrigan said. "They know what the market's doing."
The market says the value of homes in Steamboat Springs increased by 46 percent on average in the two years since property in the county was last appraised to establish value for property taxes.
And what most property owners want to know is, "How much will my taxes increase?"
Even a dramatic increase in valuation doesn't necessarily mean taxes will go up. Rising property values and new construction mean the city and county's tax base pie is growing with the tax burden spread among more owners and greater valuation. However, Kerrigan said it's too soon to guess whether different categories of property owners in various taxing districts will see their bills increase.
"I know mill levies have to go down," he said. "I just don't know how much."
One factor not working in favor of residential property owners is that residential valuations statewide are not climbing the way they are in Routt County.
Unlike past years, the ratio used to ensure commercial property owners bear a disproportionate share of the tax burden won't ratchet downward for residential owners this year.
Routt County's overall property valuation increased by 35 percent this cycle, from $812 million to $1.1 billion.
The leap in property valuations means a hypothetical single-family home that was appraised for $300,000 in June 2004 in time for valuation notices to be sent out in May 2005 is now valued at $438,000. A more spacious home valued at $500,000 two years ago would have increased (on average) to $730,000.
Property owners in different parts of the city and county are experiencing different increases, and Kerrigan cautioned against placing too much weight on average figures.
For example, commercial property owners in Steamboat Springs saw increases that began at 20 percent at the base of the ski area to 48 percent in downtown, according to statistics prepared by the Assessor's Office. However, some Lincoln Avenue property owners have seen 100 percent increases, Kerrigan said.
The redevelopment of old buildings on Lincoln Avenue is creating pressure on existing business owners, Kerrigan said. When a property is purchased with the intent of tearing down the building and starting fresh, the transaction is viewed as a purchase of undeveloped land. That means the commercial lots beneath existing buildings in the downtown core are suddenly much more valuable. That can lead landlords and tenants to compare the rent to their cash flow and question whether their business plan represents the best use of the real estate.
The Assessor's Office appraises property based on nearby sales of "comparable" properties. And when you look inside the valuation statements, one trend emerges - the value of the land a building sits on is appreciating faster than the structures themselves.
"Absolutely, what's driving this valuation (increase) is the imbalance of demand and the supply of land, almost countywide," Kerrigan said.
It's also not uncommon for owners of modest homes in Steamboat to look a little deeper into their valuation notice and find the value of their building lot exceeds the value of the house itself.
The home Routt County Treasurer Jeanne Whiddon and her husband, Tom, own on Pine Street is a case in point. The value of their property (for tax purposes) increased by 46 percent with this valuation notice from $391,510 to $568,570.
"There should be no shock," Jeanne Whiddon said, "and it doesn't necessarily mean my taxes will go up. But some people, I know, are panicking because they don't understand the process."
Different taxing entities are limited in how much property tax revenue they can collect. They'll set budgets this fall and adjust their mill levies to match their district's valuation to the revenue they are allowed to collect.
Look a little deeper into the Whiddons' tax bill and you see the value of their building lot has increased more dramatically than their home, and the lot is more valuable than the structure. The Whiddons' lot increased almost 50 percent in value, from $225,000 to $330,00. The structure is valued at $238,500.
"It's amazing to me, but I'm not concerned, because we're not going anywhere," Whiddon said.