Sailors hope to increase number of track qualifiers for state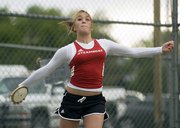 Steamboat Springs — Steamboat Springs High School's track and field coaches know at least two Sailors will compete in the 4A state meet in Denver later this month.
What's still up in the air is how many teammates will join Westin Cofer and Matt Hill - who pre-qualified in the discus and 1,600-meter run, respectively - in Denver on May 18 and 19 for the state competition.
It's likely at least three additional Sailors will qualify for state, and the best-case scenario could send eight or more Steamboat athletes to Denver.
"I'd look to take at least between four and eight kids," sprint and hurdle coach Quint Friesell said. "Definitely four at the minimum."
Along with Hill and Cofer, the Sailors should get strong performances from several athletes who have been among the top three in the region all year.
The top three competitors in each event at Friday and Saturday's regional track meet at Stocker Stadium in Grand Junction advance to state.
Lizzie Stoll, who threw her personal best in the discus at last weekend's Tiger Invitational in Grand Junction, should slot in the top three and make it to state. Brittany Long (3,200-meter run), Tyler Hutson (400-meter) and Lauren Marias (long and triple jumps) also figure to finish in the top three of their respective events.
Hutson and Marias set per-
sonal bests at the Tiger Invitational, with Hutson taking more than a full second off his best time in the 400-meter run.
Other Steamboat athletes who could make runs to state include Colby Kostur (long and triple jumps), Garrett Brew (100- and 200-meter dashes) and the boys 4x400-meter relay team.
For athletes like Cofer, Hill and Stoll, the opportunity to make it to state in multiple events still exists.
Mike Hill, who coaches the throwers for Steamboat, said Cofer and Stoll have a shot at qualifying in the shot put. Hill said both had a tremendous week of throwing, and if things fall into place, they could find themselves in the top three at regionals.
"It's possible in the shot," Hill said. "Westin threw his lifetime best this week, but the main thing for both of them is the discus. It's an event they both love."
Matt Hill will look to qualify in the 800-meter run on Friday. Hill, who has been battling a leg injury, should be close to full strength and has a strong opportunity of running the 800-meter at state.
"Basically the No. 1 goal is to run a season best," distance coach Greg Long said. "We want them to run faster than ever before."
Whereas conditions for last weekend's meet in Grand Junction were cold with occasional showers, Friday and Saturday should be ideal, with forecasts calling for temperatures in the upper 80s and only a small chance for precipitation.
With a fast track and athletes peaking at the right time, Steamboat coaches hope a large number of athletes will be practicing for another week.
"A lot of peaking and performance has to do with their attitude," Friesell said. "As long as they keep that, the weather is looking better than last weekend, we should do well."