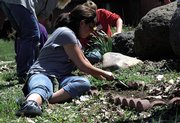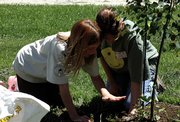 Steamboat Springs — Hayden Middle School students had few problems trading in their pens and pencils for wheelbarrows and paintbrushes Wednesday.
Seventh-grader Beth Leck understood why she and her fellow students were asked to beautify the town park and plant trees and flowers at the middle school and high school.
"To help our environment," she said. "And to help our town."
Wednesday was National and Global Youth Service Day in Hayden, meaning middle school students spent the afternoon rotating between stations around town where service projects needed to be completed.
Aspen trees and flowers were planted along West Jefferson Avenue. Although passersby and students won't notice immediate changes for years to come, watching the aspens grow and eventually provide a green barrier between the school and the road is something the students look forward to.
"It's nice because they can actually see the results," said Kinsey Vetter, Hayden's school-based student mentor.
Vetter acknowledged that students aren't always excited about service projects, but Wednesday's 70-degree temperatures and the fact the students were digging in dirt instead of textbooks helped get them excited about completing needed projects, she said.
The students also painted buildings and fences, stained and sealed bridges at the town park and cleaned up the Routt County Fairgrounds.
At the middle school and high school, sixth- and seventh-graders planted aspen trees donated by friends or families of the district or planted flowers at the base of the American flag flying above a memorial area in front of the schools.
Hayden's eighth-graders worked at the Yampa River State Park west of town.
The Legacy Education Foundation provided Vetter with a grant to fund a majority of Wednesday's projects, she said. Families also purchased aspen trees for $30, and wooden plaques were erected in the families' honor near the trees they purchased.
Middle school students in South Routt and in Steamboat also participated or will participate in National and Global Youth Service Day. Soroco's students did their projects Tuesday. Steamboat's students will work at LIFT-UP of Routt County on Monday.