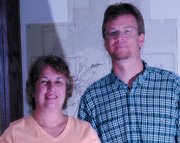 Steamboat Springs — During a period of significant growth and change, Routt County officials say it's fortunate the new planning director won't have a steep learning curve.
Routt County Manager Tom Sullivan announced Monday that assistant planning director Chad Phillips will replace planning director Caryn Fox, whose last day on the job is June 8. Fox directed the county Planning Department for the past seven years, served as assistant director for two years before that and has worked for Routt County since 1981.
"I really enjoyed every minute I worked here," Fox said. "I couldn't have picked a better place to make a career. We've made a lot of progress."
Fox said Monday that after leaving her position she plans to get married, move to southwest Missouri and "pursue other interests."
Phillips has worked in the Planning Department for nine years, including the previous seven as assistant director. During that time, he worked on issues including the Routt County Master Plan, land preservation subdivisions such as Marabou, Stagecoach Community Plan, and the ongoing Hayden railroad connection project.
Routt County Commissioner Doug Monger said Phillip's institutional knowledge will be invaluable.
"It's a very good thing that we have qualified staff who are able to step up," Monger said. "I feel comfortable that we won't skip a beat."
Sullivan added that Phillips was the most qualified of the six applicants for the director position.
"We're glad to have him," Sullivan said, noting that Fox certainly will be missed by county officials and staff.
"She's always been great," Sullivan said. "You never saw Caryn get upset about anything."