Council requested to reduce recreation center options
Past Event
Tuesday, May 8, 2007, 4 p.m.
Centennial Hall, 124 10th St., Steamboat Springs
All ages / Free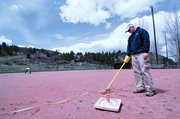 Agenda
4 p.m. Council convenes as the Steam-boat Springs Redevelopment Authority to review base area redevelopment issues, including a construction update.
5 p.m. Executive, or secret, session to discuss issues including personnel matters and possible sites for relocation of the downtown U.S. Post Office at Third Street and Lincoln Avenue.
5:30 p.m. Presentation by recreation center consultants; West Steamboat planning issues; discussion of regional land use options proposed by the Bureau of Land Management.
Steamboat Springs — City officials soon could reduce the number of sites considered for a new recreation center to two.
At tonight's meeting of the Steamboat Springs City Council, consultants hired by the city will present findings from a three-month study that analyzes options for expanding local recreation services. Last week, Chuck Musgrave of the Denver firm Barker Rinker Seacat Architecture and Chris Dropinski of the Broomfield firm Greenplay, LLC, presented those findings to the public at Steamboat Mountain Theater. While the consultants said their top choice is Ski Town Fields, adjacent to the Tennis Center at Steamboat Springs on Pine Grove Road, the study also assessed costs and potential impacts from building on four other sites.
Those sites include Howelsen Hill, Rita Valentine Park, Strawberry Park Elementary School and the downtown U.S. Post Office.
The Recreational Needs Exploratory Committee, a citizen group appointed by the City Council to oversee the study and guide recreation discussions, is recommending the council narrow the list of sites to "a maximum of two" in order to "continue moving this process forward."
The committee also is recommending a public survey be conducted this month to hear public input on the consultants' findings, which detail the likely costs of building on each site.
Building at the Ski Town site would cost at least $15.7 million, Musgrave said. A basic recreation center at Rita Valentine Park, between Anglers Drive and Hilltop Parkway, would cost at least $15.9 million. Musgrave noted use of the Rita Valentine site has drawn significant opposition from homeowners in the area, and could also create traffic concerns.
Musgrave said land purchase and relocation costs could drive the price of building on the post office site, at Third Street and Lincoln Avenue, to at least $42 million. As for Howelsen, Musgrave and Dropinski listed a cost of about $22 million and noted the site's already heavy use, especially during high-traffic afternoon and evening hours.
A gymnasium at Strawberry Park would cost $7 million, Musgrave said.
Adding aquatic features such as competitive or leisure pools to any of the sites would increase the cost by $9.2 million to $14.4 million, according to the consultants. Adding sports and fitness equipment could cost an additional $665,000 to $8.1 million.
Those numbers mean a full-sized recreation center with all the amenities at Ski Town Fields would cost more than $38 million.
City Councilman Towny And-erson said Monday that he will "certainly have questions" for the consultants at tonight's meeting.
"The two sites that really came forth were the Ski Town site and Howelsen Hill," Ander-son said of last week's presentation.
The consultants began their study in February.
City Manager Alan Lanning said Monday the city has considered the Ski Town site for some time.
"I think all along we thought that was a reasonable place, as long as the total of the amenities could fit there," Lanning said.
He added that in his mind, a public survey about the study findings is a critical step.
"That will certainly dictate what the next step is," Lanning said.
The city previously conducted studies about recreation issues in 1999 and 2006.
The exploratory committee said narrowing the list of sites, conducting a survey and further site analysis, then completing a building design would prepare a recreation center initiative "for a potential November election."
- To reach Mike Lawrence, call 871-4203
or e-mail mlawrence@steamboatpilot.com