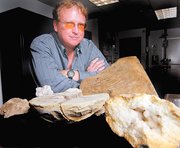 Steamboat Springs — In a matter of minutes, Tom De Lancey can teach jaw-dropping facts - such as how the top of Mount Werner contains rocks that are more than 3 billion years old and once sat 30 miles below the surface of the planet.
"This is some of the original crust of the Earth - we call it Precambrian granite," De Lancey said Monday, in the lab where he teaches geology at the Alpine Campus of Colorado Mountain College in Steamboat Springs. "It's some of the oldest rock in the world."
Campus administrators rec-ently named De Lancey as the adjunct, or part-time, faculty member of the year for the 2006-07 academic year. He has taught geology to college students in Steamboat since 1986.
"He has a great knowledge base and an excellent rapport with students," said Dr. Kerry Hart, dean of the campus. "That's a critical combination. It's a well-deserved award."
Hart also praised De Lan-cey's enthusiasm, which is evident as the red-haired instructor explains how, about 70 million years ago, the Rocky Mountain Uplift heaved rocks aboveground from miles below the surface.
Although CMC held its graduation Friday, De Lancey still has rocks scattered around the Bristol Hall lab.
"This is one of the largest clams I've ever found," he said, holding a piece of shale marked with the swirling imprint of a clam, known to science as a bi-valve mollusk. It's the size of a serving platter.
The fossil imprint is about 100 million years old, De Lancey said, adding he found it near a commercial campground west of downtown Steamboat. Then he explained how marine species wound up in Routt County.
"One hundred million years ago, Steamboat Springs was a beach, and the ocean actually went off to the east," De Lancey said. "Kansas was a shallow ocean."
De Lancey said he loves sharing Northwest Colorado's rich geology with students.
"I think most people are naturally interested in the Earth," De Lancey said. "What really gets them jazzed up is going on field trips."
De Lancey is a former oil field geologist and contractor for the U.S. Forest Service. He currently works at the wastewater treatment facility for the city of Steamboat Springs. Teaching at CMC two nights a week, he also leads his students on field trips to Dinosaur National Monument, Rabbit Ears Pass and even Old Town Hot Springs, which De Lancey said bears evidence of "sulfur-bearing bacteria" that is 2 billion years old.
"We're living right here in the Mecca of geology," De Lancey said. "I feel real lucky to be here and be a part of this."
CMC administrators named resort management professor Terry Hunter full-time professor of the year.
- To reach Mike Lawrence, call 871-4203
or e-mail mlawrence@steamboatpilot.com