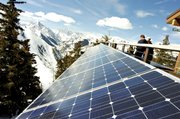 If you go
What: Economic Summit: The Economics of Sustainability
When: Wednesday and Thursday
Where: Steamboat Grand Resort Hotel
Cost: $50 for both days. $10 for just Wednesday. Register at www.steamboatcham...
Steamboat Springs — Auden Schendler plans to kick off Steamboat's annual Economic Summit with practical solutions to some very daunting challenges in terms of climate change.
Schendler said he will talk about "implementing sustainable business solutions in the real world." He said those attending the summit should be able to implement ideas as soon as they return to their offices.
"They'll have a sense of what they can do Monday morning and hopefully will be encouraged and optimistic in implementing some of these solutions," said Schendler, director of environmental affairs at Aspen Skiing Company.
The Steamboat Springs Chamber Resort Association is celebrating its 100th birthday, and wants to ensure that its member businesses are around another 100 years. To help, numerous speakers have been lined up for this year's Economic Summit, The Economics of Sustainability. The summit is Wednesday and Thursday at the Steamboat Grand Resort Hotel.
The summit focuses on a different topic each year. Past summits introduced new initiatives - economic gardening and cultural and heritage tourism - to the business community.
The summit is put on by the city of Steamboat Springs, the Chamber, Major Geothermal, the Chamber's Economic Development Council, Routt County and Steamboat's Green Team.
People can register for the summit at the Chamber's Web site, www.steamboatchamber.com. The cost to attend both days of the summit is $50.
For $10, participants can attend Wednesday only, which includes Schendler's talk.
Schendler has held the position of director of environmental affairs at Aspen since 1999. Aspen is renowned in the ski industry for its environmental practices.
In March 2006, Aspen Skiing Company announced it had purchased enough renewable energy certificates from wind farms to offset 100 percent of its electricity use. Green practices have been implemented throughout the resort. The Steamboat Ski Area has also implemented sustainable practices.
"We think these types of places can be models for sustainability," Schendler said.
But, he said no matter what is done in places such as Aspen and Steamboat, that alone is not going to fix the problems facing the world in terms of climate change.
An example of a more significant accomplishment has been a recent Supreme Court ruling, which ruled carbon dioxide should be considered a pollutant by the Environmental Protection Agency. Aspen Skiing Company filed a brief with the court urging such a ruling be made.
"And we won," said Schendler, who is an accredited Leadership in Energy and Environmental Design professional.
Before coming to Aspen, Schendler was a research associate in corporate sustainability at the nonprofit Rocky Mountain Institute.
Sandy Wiggins also is a LEED-accredited professional who will speak at the summit. She is chairwoman of the U.S. Green Building Council and will talk at 8 a.m. Thursday.
From 8:30 to 10 a.m. public officials, contractors and developers will discuss the pros and cons of green building codes that have been implemented in some Colorado communities.
Other speakers include Lyn Halliday with Environmental Solutions. She will be discussing how businesses can become involved in the newly created Sustainable Steamboat Business Program.
On Thursday afternoon, summit attendees can take field trips to see sustainable practices in action.
A tour will be given of the Marabou land preservation subdivision, which is using sustainable practices to minimize impacts on the environment.
There will be tours of three local homes that were built using green technologies.
A breakout session will focus on geothermal technology.
Terry Minger will conclude the summit. He is president and chief executive officer of the Center for Resource Management, an organization founded by Robert Redford in 1981 that works to find common ground in groups with conflicting interests with the goal of finding real sustainable solutions.
Minger also served as president, CEO and developer of Whistler-Blackcomb Resort. He is the former city manager of Vail.