Ski Time Square primed for massive face-lift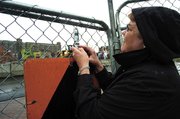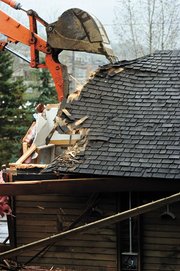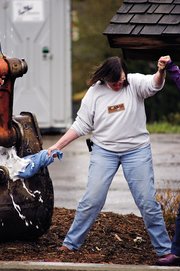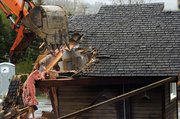 Steamboat Springs — The magnitude of potential changes at the base of Steamboat Ski Area is enormous.
Under a light rain Wednesday evening, Routt County Commissioner Diane Mitsch Bush stood in the parking lot in front of Steamboat Mountain Theater and the Jade Summit restaurant on Ski Time Square Drive. Beside her stood Sandy Evans Hall, executive vice-president of the Steamboat Springs Chamber Resort Association. As the two longtime Routt County residents looked at the buildings surrounding the parking lot - including Ski Time Square Condominiums and the Dos Amigos restaurant, along with nearby commercial
properties such as The Tugboat Grill & Pub and Fuzziwig's Candy Factory - the women marveled at the widespread demolition that now is all but certain.
"Everything will come down," Mitsch Bush said.
Everything.
The $53.9 million purchase of Ski Time Square and Thunderhead Lodge by Washington, D.C., real estate developer Cafritz Interests, announced April 26, has set the stage for incredibly sweeping redevelopment at the base area. In the wake of the purchase, city officials and base area planners last week said conceptual ideas for a new, pedestrian-oriented village and a dynamic, unified base area can become a reality within a few years.
"The main road is envisioned to come up behind the village area, so you open up the pedestrian corridor where the current Ski Time Square is," said Jim Weber, Steamboat's director of public works.
In other words, the parking lot where Mitsch Bush and Evans Hall stood very likely soon will be part of a large "village" area, with vehicle access from a road on the area's north side.
Such a vision, headlined by the redevelopment's official slogan, "Steamboat Unbridled," will require demolition of commercial properties along much of Ski Time Square Drive and create a base area that is drastically different - if not unrecognizable - from the base area that Steamboat natives have grown up with.
"I'm not nostalgic," said Evans Hall, who came to Steamboat in 1981. "I'm excited. This is a fantastic time in Steamboat Springs."
Goodbye, Charlie
Mitsch Bush and Steamboat Springs City Council President Susan Dellinger got a firsthand taste of what's to come Wednesday evening, at the official kick-off for the multi-year redevelopment project.
Dressed in raincoats and standing in front of a crowd lining the construction zone on Ski Time Square Drive, Mitsch Bush and Dellinger smashed a bottle of champagne onto a large, idling excavator.
A lively drum roll began.
Dripping champagne bubbles, the excavator's heavy bucket rose into the air. Then, as cameras flashed and the crowd cheered, the bucket smashed onto the roof of the "Checkpoint Charlie" guardhouse that has stood at the entrance to Ski Time Square, where the road splits, since the early 1980s.
Minutes later, the rarely-manned guardhouse once intended to be a welcome station for tourists lay in pieces on the ground.
Redevelopment coordinator Joe Kracum orchestrated the ceremony, which was emblematic of the destruction in the base area's future.
Deputy City Manager Wendy DuBord said the nearby "octagon buildings" could come down late this summer.
Redevelopment plans also include a significant realignment of Ski Time Square Drive. Construction of a new roundabout began last month. Kracum's crews currently are working on underground utility improvements.
Top of the pile
Cafritz President Steve Peer has strongly suggested his company plans to raze the existing buildings - which are nearly 40 years old - to redevelop Ski Time Square.
"If you look at the age of most of those buildings, it's advisable that they get torn down and redeveloped," Weber said.
City Manager Alan Lanning pointed out Thursday that redevelopment at the base area will be coupled with another massive local project.
"The magnitude of what will happen in West Steamboat is enormous as well," Lanning said, referring to the recent purchase by Steamboat 700, LLC, of 540 acres west of downtown Steamboat. The group also has an adjoining 160 acres under contract.
"To think about both of these in progress simultaneously is really impressive," Lanning said. "It really puts us at the top of the pile for ski areas and resort communities, in terms of redevelopment : we're going to be in a position where if there's a piece of dirt, there's going to be a backhoe on it."
Lanning said Steamboat 700 partner Danny Mulcahy has begun meeting with city planning staff about preliminary site concepts, which Lanning said include "a self-contained town center."
Lanning also said Mulcahy has assembled a "world-class team" of consultants to address development issues such as affordable housing.
The increasing number of development projects and major real estate sales in the Steamboat area is akin to a line of dominoes, falling one after another.
"I don't think anybody should underestimate how critical this (base-area redevelopment) was in terms of the sale of the ski resort," Steamboat Ski and Resort Corp. President Chris Diamond said at Wednesday's base-area groundbreaking ceremony.
The $265 million sale of Steamboat Ski Area to Intrawest, owned by Fortress Investments, was finalized March 1.
Time will tell how the potentially massive, sweeping base-area redevelopment plays out, Weber said.
"The plan has a lot of interesting features, components and ideas," he said. "But implementation is always another story."