Sailors track team ready for regionals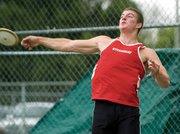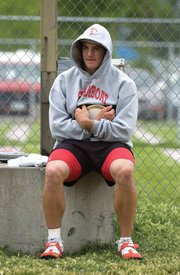 Grand Junction — It was one of those days for Steamboat Springs discus thrower Westin Cofer.
Cofer, who already has pre-qualified for state in the discus, struggled to find a rhythm at the Tiger Invitational in Grand Junction on Saturday.
While his throw of 143-2 was good enough for fourth place, Cofer left the throwing area at Stocker Stadium disappointed in his effort.
"I just couldn't find what was clicking for me," Cofer said. "I didn't feel comfortable at first. It was just one bad day to the next. Next time will be better, though."
The next time for Cofer will be at the same place and same pit in Grand Junction on Friday and Saturday at the regional meet.
Cofer, who has a season-best throw of 151 feet, said while he feels confident heading into the regional meet, he knows Saturday's throw more than likely won't get him to his goal.
"That's my goal, is to win regionals," Cofer said. "I've got some competition ahead of me, and it's going to take 150's at least to win it. I'm just going to start practicing and get it down. I should have it figured out by next weekend."
Cofer was the only athlete for Steamboat Springs to place on the second day of the meet. Distance runner Matt Hill, who had hoped to eclipse the 1,600-meter run school record time of 4 minutes, 27 seconds, struggled in his run and finished 13th with a time of 4:41.
The boys 800-meter relay team finished 13th and the 400-meter relay team finished 10th.
With regionals only six days away, the Sailors will have a full week of practice to cut times and add distances. With only Cofer and Hill slated for the state meet, Friday and Saturday will present the last chance for Steamboat to qualify runners for State.
The top 3 placers in each event at regionals qualify for state.
Steamboat did get solid efforts Friday from Lizzie Stoll, Lauren Marias and sprinter Tyler Hutson. All three set personal bests in their respective events. Marias' long jump of 15-9 3/4 was good enough for a ninth-place finish. Hutson ran the 400-meter run in 51.6 seconds, bettering his previous personal best by more than a second, and Stoll threw the discus 106-9.
The regional meet starts Friday at Stocker Stadium and continues through Saturday.