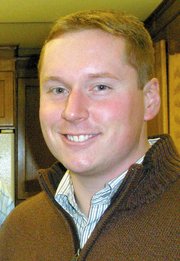 Foster King
Age: 26
Occupation: Physical therapist
Place of birth: Portland, Ore.
Q. When did you move to Routt County and what brought you here?
A. Job opportunity at Forever Fit of Steamboat Springs and the Rocky Mountain Karate Academy.
Q. Describe your morning routine.
A. Snooze three times, shower and dress, breakfast and coffee, and then go to work.
Q. What's the best piece of advice you've ever been given?
A. Shut up and punch.
Q. What are the first three things you tell new acquaintances about yourself?
A. I work as a physical therapist, I'm off the clock so don't ask me to fix you and, yes, this is my real hair.
Q. What did you want to be when you grew up?
A. Blue Angel pilot.
Q. If you could invite any four people to dinner, who would they be and what would you talk about?
A. Both my grandfathers, Bruce Lee and Salma Hayek. I get the feeling we would all be talking about Salma ...
Q. Do you collect anything?
A. Just debt, HA! Thanks graduate school.
Q. In the Meatloaf song, "I'll do anything for love, but I won't do that," what is that?
A. There should be no "that" with true love.
Q. What was your first job?
A. Lawn and garden care around the neighborhood and construction work.
Q. Who is your favorite superhero? Why?
A. Batman, but he's a crime fighter not a superhero. Why? Well, he IS Bruce Wayne and he owns the Batmobile.
Q. Do you have a tattoo? If so, what of and why did you chose it?
A. No tats.
Q. Do you have any phobias?
A. I can see myself freaking out in tight spaces so, claustrophobia.
Q. If you could go back in time, to what event or time period would you go?
A. One minute before the Big Bang and watch it happen, if I could live through it.
Q. What is your favorite thing to do in Routt County?
A. Float the Yampa in the summer with a sixer and friends.
Favorites
Song: AC/DC, "Thunderstruck"
Color: Green
Food: Any home cooking by my grandmother
Sport to watch: NFL playoffs
Vacation spot: Costa Rica
Recreational activity: Goju-Ryu karate training
Movie: "Anchorman: The Legend of Ron Burgundy"
Magazine: Besides the Journal of Orthopaedic and Sports Physical Therapy, National Geographic