Medical Center earns award for emergency care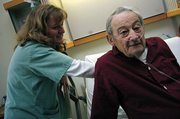 Steamboat Springs — Yampa Valley Medical Center earned the top score for emergency care in a recent survey of 250 hospitals nationwide.
Avatar International, a Florida-based healthcare research firm, released the results of its annual "Five Star Emergency Care" healthcare service study May 1. The study conducted patient surveys at hospitals of all sizes, and gave exceptionally high praise to the hospital on Central Park Drive in Steamboat Springs. Avatar also honored the hospital's overall service, naming Yampa Valley Medical Center one of the top 10 overall performers in the study.
But the honors come at a tumultuous time for the hospital, which is facing a rising demand for services that is fueled by a rapidly growing population in Northwest Colorado. Yampa Valley Medical Center is the primary caregiver for residents of Routt, Moffat, Rio Blanco, Grand and Jackson counties, a region with more than 55,000 people in 2005. According to the state Department of Local Affairs, the regional population could exceed 75,000 by 2016.
That means more patients at the Steamboat hospital, which reported more than $76 million in revenues in 2006 - but also reported more than $54 million in expenses and nearly $34 million in outstanding debt, leaving only $1.5 million for new programs, equipment and facilities.
So, for Karl Gills, who has served as the hospital's chief executive officer since 2001, it's nice to know the current services are at the top of a national study.
"All medical centers in the U.S. expend significant energy improving the quality of care and the patient experience," Avatar founder Dr. Michael Everett said. "Given such competition, Yampa Valley Medical Center and its staff are to be applauded for being a top performer. It is a remarkable achievement to be the best emergency care performer in the United States."
The Avatar study questioned patients across the country about inpatient and outpatient services, ambulatory surgery and emergency care. Gills said the surveys questioned patients about everything from nursing care to billing, communication staff, treatment practices and cleanliness.
"It's the total care they're recognizing," Gills said. "This is truly a hospital-wide recognition."
By the numbers
Yampa Valley Medical Center recently completed a wide-ranging study of its own.
The hospital hired the Dallas-based healthcare advisory firm Aegis Advisers to examine the hospital's growth projections and service data in a study that began last fall. Gills presented findings to the hospital's board of directors in March.
The dominant factor in the study was population growth.
According to state data, Routt County had a population of 21,906 in 2005. That number is estimated to reach 28,893 by 2016, a growth of 32 percent. Of the five counties the hospital services, the sharpest population growth is projected for Grand County, which could rise from 13,907 in 2005 to 19,942 in 2016, a 43 percent increase.
"That is just huge," Gills said. "As fast as Routt is growing, on a percentage basis, Grand is growing even faster."
Yampa Valley Medical Center treats about 35 percent of the patients in its total five-county service area, according to the Aegis study. The next largest percentage in Northwest Colorado belongs to The Memorial Hospital in Craig, which treats 16.6 percent of patients in the region.
Those numbers could be skewed by the inclusion of Routt County, which has the service area's largest population and sends nearly 80 percent of its patients to Yampa Valley Medical Center. If only the four other counties are counted, the Steamboat hospital treats 15.9 percent of patients, compared to 23.5 percent for The Memorial Hospital.
In both the five-county and the four-county calculation, the third-largest healthcare provider for Northwest Colorado residents is St. Mary's Hospital and Medical Center in Grand Junction.
Gills said the high number of regional visits to Yampa Valley Medical Center can be attributed to services not provided at other Northwest Colorado hospitals, such as obstetrician care for pregnant women and weekly visits by oncologists from the Rocky Mountain Cancer Center in Denver.
Growth plans
An architect is scheduled to visit the hospital this week to look at options for expanding the hospital's operating and surgical capacity, which currently entails three operating rooms and one "procedure room."
"Within the next two years, we'll need a fourth operating room," Gills said.
An expanded obstetrics, or OB, wing also is planned - a rising population, of course, means more births.
Gills said the hospital also is working with medical centers in Fort Collins to explore the possibility of bringing full-time heart care to Steamboat.
"Cardiology is the next specialty we should be building," Gills said.
Uncertain future
Last month, Gills asked the Steamboat Springs City Council to reconsider a policy he said could significantly drain the hospital's finances.
Included in proposed revisions to the city's inclusionary zoning ordinance, which regulates how the city provides affordable housing, is a controversial policy known as "linkage."
Linkage would require residential and commercial developers to compensate the city, either by a fee or by construction of affordable homes, for a percentage of the market-rate housing units or employees created by their new development.
In other words, if you build something that will bring new employees to Steamboat Springs, you have to help the city provide housing for those employees.
Expansions of more than 1,200 square feet to existing facilities would be subject to linkage fees, as the proposed ordinance is currently written.
Also, the hospital currently would fall under the "institutional" category of commercial use and, therefore, be subject to linkage fees.
With only $1.5 million for new projects, Gills said linkage fees - potentially tens, if not hundreds, of thousands of dollars - would have significant impact on hospital funds.
"I really am concerned about the long-term impacts of what you are proposing," Gills told the council April 17.
The council is scheduled to continue its work on the housing ordinance May 15. At least one council member is uncertain about how the ordinance should move forward.
"I've got some problems with the linkage ordinance to start with - I think the rates we're talking about are too high," City Councilman Paul Strong said Thursday. "On the other hand, I have a hard time with exempting governmental entities or institutions from requirements that private people are required to meet - they should probably be held to the same standard."
The inclusion of institutional uses could be a sticking point in council debate in coming weeks.
"It's a difficult issue," Strong said. "At what point in time do the services a non-profit organization offers to a community outweigh keeping a level playing field for everybody?"
- To reach Mike Lawrence, call 871-4203
or e-mail mlawrence@steamboatpilot.com