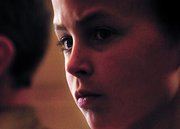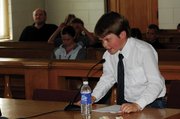 Steamboat Springs — Everyone knows SpongeBob SquarePants lives in a pineapple under the sea and that he is absorbent and yellow and porous, but not everyone knows the alleged darker side to the famous sponge's personality.
On Friday, a group of Strawberry Park Elementary School, Soda Park Elementary School and North Routt Charter School fifth-graders spent the day at the Routt County Courthouse trying SpongeBob and his sidekick, Patrick Star, on suspicion the two had committed theft by stealing a secret recipe while dressed in Christmas costumes.
The mock trial was held as part of Law Day, an annual event that exposes elementary school students to the judicial branch of government. Students got a tour of the Routt County Courthouse and had opportunities to question judges and attorneys and participate as characters in a mock trial.
For Soda Creek student Josh Heald, prosecuting SpongeBob wasn't as easy a job as he thought.
"It's hard to compete against SpongeBob because he has a lot of people who like him. I realize I have my work cut out for me," Heald said. "I've learned it's hard to convince people when they're listening to you and watching your every move."
Attorney Erick Knaus, who helped organize the day, said exposing students to the legal system in a fun way is important to helping them grasp basic legal concepts.
"It's their interest that keeps this going every year," he said. "I'm always amazed at how bright-eyed they are just walking into a courtroom. It sends a shiver down my spine."
The American Bar Association sponsors Law Day, which began in 1958 under the Dwight D. Eisenhower administration as a means to "celebrate the rule of law." This year's national theme was, "Liberty Under Law: Empowering Youth, Assuring Democracy."
"One of our main goals was to expose the freedoms we all have and why it is so important to respect and protect our constitutional rights," Knaus said. "It may not be a perfect system, but, in my opinion, it's the best in the
world."
Routt County Judge James Garrecht spent time with each group of students explaining the differences between the levels of the court system and answering questions that ranged from why there are cracks in the ceiling of the courtroom to why a co-defendant wouldn't want to testify.
When asked if he liked his job, Garrecht said he wouldn't do anything else.
"I love it. This is where all the action is," he said.
Trent Naused, a fifth-grader at Soda Creek Elementary School, said being a judge for a day was a big responsibility.
"I've learned that you can't let anything that's not allowed to get past you, and you have to listen very carefully to what everyone says," he said. "You have to be fair."
As for SpongeBob Square-
Pants and Patrick Star?
A group of their peers found them not guilty after three jurors refused to change their minds that the two had not stolen the recipe.
"That's what the legal system is about, holding onto your convictions," Knaus said of the importance of serving as a juror. "I can't think of a more important, vital or honorable job."