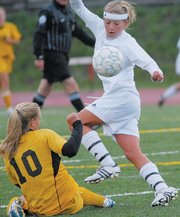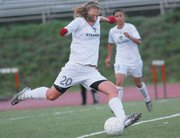 Steamboat Springs — The girls on the Steamboat Springs soccer team locked a postseason berth with the No. 2 spot in the Western Slope League. Now it's a matter of them stepping up their game for a playoff run.
Preparing for what lies ahead, Steamboat finished its regular season on Friday with an appropriate non-league test against a large, fast and physical team from Thomas Jefferson.
The Spartans (8-6-1 overall) put an end to their regular season of play in the competitive Denver Metro League with a win against the Sailors.
But despite being out-shot, 27-7, Steamboat kept the game close in the 2-1 loss.
"That's the toughest (team) we've played," Steamboat midfielder Miranda Schrock said after the game. "I've got a feeling we're together as a whole, and I think this was how we're going to need to play all our games in the playoffs."
Steamboat struggled to generate offense in the first half. The Sailors often found Lauren Letson streaking on the right side only to have the Spartans' defense quickly collapse on her crossed passes, led by sweeper Christen Turk.
With twelve minutes left in the first half, the Spartans' offense lofted a high ball into striker Jennifer Rose-Maston, who put her left foot on it and snuck the ball past Steamboat goalkeeper Hanna Berglund for a 1-0 lead.
On the next T.J. possession, Rose-Maston had another crack at the goal, but Berglund made a clutch kick stop, one of her nine saves in the game.
Steamboat took its first shot on goal with a minute to go in the half.
At halftime, coaches and players honored the nine Steamboat seniors - Sisi Atkinson, Abbey Lewis, Angela Palaniuk, Shannon King, Letson, Aila Bereznak, Heidi Wernig, Betty Sasak and Liz Handing - in a brief ceremony of thanks.
But after T.J. scored seven minutes into the second half on a corner kick converted on a header to go up by two, it was a freshman that made the difference for Steamboat.
After a couple chances in the Spartans' zone, Emily Birch got a hold of a ball 25 yards out from the goal and nailed it, on a line and into the top right corner.
The goal sparked Steamboat's intensity in the final twenty minutes, but T.J. answered with its most controlled and aggressive play of the game.
"You know, it's just like building a new Chevy - it's a building process and then you finally get the car running," T.J. coach James Nixon said. "We knew (Steamboat) had a skilled team, so it would have to be a team thing to beat them."
Steamboat finished the game with a couple exciting chances on offense from a pair of corner kicks, but could not generate shots.
"Those last 20 minutes, we really pushed it, had more touches and combos," Letson said. "We played well in the end and can build off this, be more consistent and we'll pick it up from there."
Steamboat (10-3-2 overall) finds out its playoff fate on Sunday.
Steamboat's junior varsity soccer team finishes its season with an 11 a.m., game today at Dudley Field against Laramie, Wyo.
- To reach Dave Shively, call 871-4253
or e-mail dshively@steamboatpilot.com