Sailors off to brush up before regionals
Stoll, Hutson, Marias set personal bests at Friday's Tiger Invitational track meet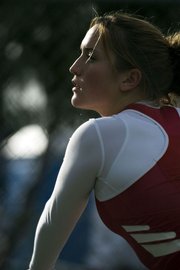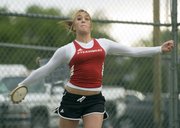 Grand Junction — Steamboat Springs junior discus thrower Lizzie Stoll would have been forgiven if she didn't put her best effort forward Friday at the Tiger Invitational track meet.
Stoll recently got back from a Mexican vacation for spring break, has been studying for the SAT test that takes place today and then has to get ready for prom tonight.
Still, Stoll put all of her distractions aside and threw a personal best Friday of 106-9 - good enough for fourth place.
"I definitely feel more confident knowing I can consistently get better," Stoll said. "I am hoping that it can be a dramatic jump before regionals so I can get to state."
Stoll wasn't the only Sailor to have a personal best Friday.
Both long jumper Lauren Marias and sprinter Tyler Hutson improved on distances and times. Marias' jump of 15-9 3/4, was good enough for a ninth place finish. Hutson ran the 400-meter run in 51.6 seconds bettering his previous personal best by more than a second. Unfortunately, Hutson missed today's finals by a mere 1/100 of a second.
Despite missing the finals, Hutson said his time Friday gives him more confidence heading into regionals next Friday and Saturday.
"I am really pleased," Hutson said. "I have been working at it all season. I thought spring break might have hurt me, but I am improved a full second. : Going into regionals I should be first, second or third."
The Tiger Invitational is a two-day meet that serves as one of the last chance athletes have to pre-qualify for state. Because it's a pre-qualifier, it attracts some of the top schools from around the state.
"It's always tough," Steamboat coach Andy Reust said. "The competition is great. It's always nice to see the best, and it will be even better" today.
Most of the preliminary races took place Friday with the finals set for today. Other Steamboat athletes to compete in finals on Friday included Brittany Long (10th in the 3,200-meter run), Jake Stanford (11th in the triple jump) and Colby Kostur (12th in the triple jump).
Today's action starts at 8:30 a.m. with finals in most of the running events and some of the field events.
Steamboat's Matt Hill (1,600-meter run) and Westin Cofer (discus) will be looking to set new school records.
- To reach Luke Graham, call 871-4229
or e-mail lgraham@steamboatpilot.com