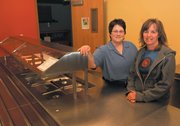 Steamboat Springs — Under first-year director Teresa Wise, the Steamboat Springs School District's nutrition program has earned a national award.
The district received the District of Excellence in Child Nutrition by the School Nutrition Association.
SNA gives the District of Excellence Award to programs that score 80 percent or higher on a Web-based questionnaire called Keys to Excellence. According to SNA's Web site, Keys to Excellence is a self-assessment program used to help nutrition departments determine the quality of their school's program. The Web site helps food-service providers evaluate the district's strengths and weaknesses and also provides ideas to help run cafeteria programs more effectively.
Through the site, schools have the ability to compare their food-service plan with other nutrition programs across the country, allowing the district to create goals for serving food in a healthy and cost-effective way.
SNA is a national, non-profit organization that represents more than 55,000 schools that provide cafeteria food to students across the country. The Steamboat Springs district is the only district in its region to receive the award.
Some of the changes Wise made for the 2006-07 school year included adding food kiosks around the lunchroom to downsize lines and implementing student brainstorming groups with the high school leadership class. According to the student discussion held last semester, the overall quality and appearance of the cafeteria food improved. Newly added salad bars, a la carte items and breakfast stations contribute to the district's success.
"We're honored to receive this School Nutrition Association designation," said Superinten-dent Donna Howell. "It recognizes all the hard work our food-service operation does to make school meals nutritious, attractive, economical and delicious."
Erin Gleason is a senior at Steamboat Springs High School who is conducting an internship at the Pilot & Today through the school's Careers program.