All 11 Steamboat players advance to tennis championships at regionals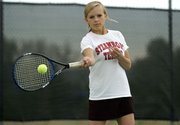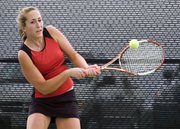 Grand Junction — Steamboat Springs No. 1 singles player Lisa Floyd felt vindicated.
The junior was arguably the best player heading into Friday's regional match in Grand Junction. Yet, when the seeding came out, Floyd was at the bottom of the bracket, would have to beat the other top two players in successive rounds to advance to the championship and had to face Aspen's Klara Kobuch - who beat Floyd, 6-2, 6-1, earlier in the season - in the first round.
Still, Floyd didn't let the head-scratching draw get her down. Instead she dominated Kobuch in the first round, easily winning, 6-2, 6-1, and then beat Vail Mountain's No. 1 player, 6-1, 6-3, to advance to today's championship match.
"I'm in the zone," Floyd said. "I just want to win regionals."
Floyd's day was just a microcosm of the Sailors day on the tennis court.
While the brackets left the Steamboat Springs coaches scratching their heads, the Sailors play left their opponents with their heads down, shaking and wondering how - and if - anyone could stop the Steamboat team.
Along with Floyd, the Sailors sent their other two singles players and all of their doubles teams into today's championship matches.
"It's great to have all seven in the finals," Steamboat head coach John Aragon said. Today "they control their destiny. If they can finish it out they're no more playbacks : hopefully (today) we can finish it off and look at that next level."
That next level would be state, and if Steamboat plays as well as they did on Friday at every slot, both Aragon and assistant Don Toy said the Sailors should be tough at state.
"They're getting close to that level," Toy said. "They really got their game face on, especially the No. 3 doubles team."
The No. 3 doubles team of Kerry Enochs and Sara Bearss, played in one of the more unique matches of the day. Playing against Aspen, Enochs and Bearss took an early lead before rain suspended play for more than an hour. After the break, Enochs and Bearss dispatched of Aspen 7-5, 6-2 and then beat Vail Mountain 6-3, 6-2 to advance to today's championship match.
"It was really nerve-wracking," Enochs said of the delay. "But after that we finished really quick."
With today's championship matches set for 9 a.m., Aragon said the expectations from earlier in the year could be a reality by noon today.
"We preach to them all year we need to be 11 players deep heading to state," Aragon said. "They don't want to be the weak link, nobody does. And today they stepped up."
- To reach Luke Graham, call 871-4229
or e-mail lgraham@steamboatpilot.com