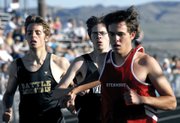 Steamboat Springs — Matt Hill's goal for the Tiger Invitational track and field meet is pretty simple.
Hill, who will compete on the second day of the meet that's set to begin today at 4 p.m. at Stocker Stadium in Grand Junction, will look to eclipse the school record in the 1,600-meter run.
Hill, whose 1,600-meter run of 4 minutes, 29 seconds three weeks ago was only two seconds off the school record, said after a solid week of practice he feels primed to put his name on the board outside Kelly Meek Gymnasium.
"The goal is to break the school record there," Hill said prior to Thursday's practice. "It's a really high-end meet. I know there are some 5A kids who have ran in the low 4:20s."
The Tiger Invitational marks the last meet many teams have before regionals begin next Friday and Saturday. Hill, who along with discus thrower Westin Cofer are the only athletes from Steamboat to pre-qualify for state, said the meet should bring some of the better teams and athletes from around the state.
More than 1,000 athletes are expected to compete in the two-day event. While this is the last meet before regionals for the Sailors, some questions remain.
It will be Steamboat's first meet since spring break. Saturdayalso is Steamboat's prom and SAT testing day for some of the underclassmen.
"It will be interesting to see how they get back into shape," hurdle and sprint coach Quint Friesell said. "It's almost an unknown."
Friesell did single out sprinter Tyler Hutson in the 200-meter dash and thrower Lizzie Stoll as athletes that could potentially pre-qualify for state at the meet.
While the meet is the last chance for teams to pre-qualify athletes for state, Steamboat coaches said the meet should give them a better idea where they fit in regionals, which are set for next weekend at Stocker Stadium.
"We're looking forward to a good meet and good results by everybody," throwing coach Mike Hill said.
Pre-qualifying for sprint and field events begins Friday. Some of the finals for the field events will be held on Friday, while most of the finals will be decided Saturday. Saturday's events begin at 8:30 a.m.
- To reach Luke Graham, call 871-4229
or e-mail lgraham@steamboatpilot.com