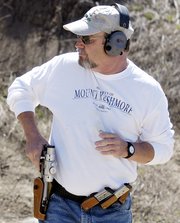 Steamboat Springs — Routt County Sheriff's Office personnel are teaching a series of gun safety courses this summer for people interested in applying for a concealed weapons permit or becoming familiar with guns.
Investigator Ken Klinger, who teaches a concealed weapons course, said the classes, which are taught at the Routt County Rifle Club west of Steamboat Springs, are never advertised and have limited space available.
Investigator Mike Curzon teaches a bi-monthly course called "Shooting for Women." Those courses are scheduled to begin May 24.
By state law, the Sheriff's Office is the only law enforcement agency in the county that can issue concealed weapons permits, Klinger said.
There are more than 100 Routt County residents who currently possess a concealed weapons permit, and 15 of those have been issued since January. Concealed weapons permits cost $100 and are good for five years. After the permit expires, an applicant can apply for a re-issue for $50 and that permit is good for another five years, Klinger said.
Klinger said between 30 and 50 percent of his concealed weapons students are women, indicating a trend that has been on the rise in recent years.
"The women are always the best shooters because they don't come to the table with any preconceived notions about guns," Klinger said. "And they're better students, too."
In order to be issued a concealed weapons permit, the applicant must meet a series of criteria. These include achieving a certain level of gun safety education and passing a background check, Klinger said.
"Unless there's a darn good reason they shouldn't have a gun, and they meet the training requirements and have a clean criminal history, we're required to issue them a permit," he said.
The concealed weapons class includes several hours of classroom instruction, equipment selection information and practical shooting experience.
"It's a really comprehensive course - one of the best in the state," Klinger said.
Since the Sheriff's Office has taken over the concealed weapons class, only two permits have been revoked, and one of those was returned after the permit was mistakenly taken, Klinger said.
"If you're a private citizen and have a weapon, you best have a permit to carry it. That permit needs to be with you at all times," Klinger said.
For more information, call the Sheriff's Office at 870-5502.
- To reach Alexis DeLaCruz, call 871-4234
or e-mail adelacruz@steamboatpilot.com