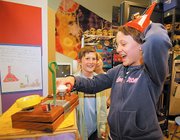 Steamboat Springs — If things go right for Noah Zedeck, he'll have a homework crunching machine for years to come.
As part of the Lowell Whiteman Primary School's Invention Convention, Zedeck created "The Noah Idea Machine."
Zedeck, 9, said his grandfather helped him conceive his invention after he struggled with some homework. The Noah Idea Machine is in the form of a cone-shaped hat equipped with a microphone. The wearer of the hat is intended to pronounce a magic word - Aleeswokee-molley-pond - into the microphone.
"I had trouble coming up with ideas," Zedeck said. "I thought this would be good to help others."
While Zedeck, a third-grader, said the machine doesn't totally work, it does get him thinking. That's something Whiteman science teacher Mick Paulis hoped for when he planned the Invention Convention.
Paulis, who teaches kindergarten to eighth-grade science, said instead of doing a classic science fair where students could go to a book and replicate something that's already been done, he challenged the group of third and fourth-graders to come up with something that would help people.
"I think this gives them more creativity," Paulis said. "This made them come up with their own idea instead of going to a book for a recipe."
Along with the inventions, the students were allowed to take an existing invention and build on it.
They also were required to do a short report on someone or something that helped them do their invention.
Zedeck did his report on Sir Humphry Davy, who created one of the first safety lamps.
Others, like Willy Gunn used more recent ideas to create an invention. Gunn took the popular Heelys - shoes that double as skates - and made Switch Blades. The Switch Blades go from a shoe to rollerblades to ice skates.
"I like to skate and I came up with the idea while skiing," Gunn said. "I think it's pretty cool."
- To reach Luke Graham, call 871-4229
or e-mail lgraham@steamboatpilot.com