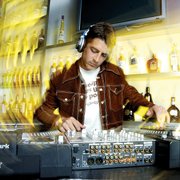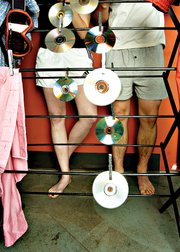 Steamboat Springs — Nick Marzano learned a deejay should never play his own birthday party.
"Last May 6 was the first time I set my turntables up, and I was horrible," he said. "I had only been practicing for two weeks."
Brian Alpart, aka DJ Also Starring, jumped in to bail him out with a 45-minute set on Marzano's new tables.
"It rocked my night to hear the potential my music collection had in it," he said. "And I've got a lot better since then."
A year later - and two days before his birthday - Marzano, now DJ vonFunk, will bring a suitcase full of CDs and two books with more than 450 CDs to Amante tonight.
The event also has a theme, in which attendees are encouraged to wear only three pieces of clothing. Creativity is synonymous with Marzano's persona.
Formally DJ Ozone, Marzano changed his name due to a genetic oversight.
"vonFunk is my mother's maiden name," Marzano said. "I didn't want (my DJ name to be) anything silly - vonFunk is silly, but genuine."
Marzano started deejaying because blending genres of music appealed to him and his habit of collecting music.
"I like stuff that has a personality to it. My favorite stuff is probably new wave or post punk, but lately I've been getting into disco punk," he said. "But I never leave a genre behind. I accumulate."
Marzano's large anthology of CDs can accommodate any venue, from a middle school dance to the bar scene. He typically picks out one or two songs to start with and then feels out the crowd.
"It's symbiotic if you just roll with it from there. I get really psyched when I'm playing a more popular set and can drop in an obscure song, and people get excited and dance to it," Marzano said. "Watching people accept this new education and respond to it is great."
There is a certain amount of musical compromise deejays struggle with. Ultimately they want the crowd to move to their favorite records.
"Then there's an extra connection like they're in on the secret," he said. "It's the same feeling when you pull that song out that people haven't heard in 10 years."
Being behind the turntables sometimes causes Marzano distress.
"I take 30 seconds of each song to dance my (butt) off because I miss being on the other side, especially when there's a good vibe," he said. "I love dancing and use my body as a metronome. I usually can't help it."
Marzano doesn't understand how some deejays can stand still behind their turntables.
"Maybe they have more control because they're not jumping up and down," he said. "But I get too excited."
Marzano will be sharing his spinning time tonight with Robert Roulette, aka DJ School Graduate, who Marzano admires for his ability to interpret a dance floor.
"He can read a crowd like a deejay and know what people want to hear," Marzano said. "He also has an ear to what people don't know they want to hear - but not in a 'High Fidelity,' music store kind of way."
Like the pushy record store employees portrayed in the John Cusack movie, Marzano knows deejays are a dime a dozen.
"I grappled with whether or not it's an art," he said of his craft. "But it is an expression, (just) as going out and dancing at a bar is art, because it portrays who you are and what you are comfortable with."