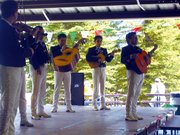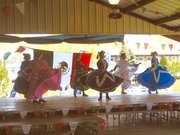 Steamboat Springs — Cinco de Mayo is more widely celebrated in the United States than in Mexico, said Summer Laws, executive director of Comunidad Integrada (Integrated Community).
"In Puebla, Mexico, it is a major holiday, but in the rest of Mexico, it's just a bank holiday," she said. "It's more celebrated in the U.S. and nobody knows why. I liken it to all other festivals that celebrate heritage."
Everyone is invited to take part in the Cinco de Mayo festivities Saturday at the Moffat County Fairgrounds where there will be live music, food vendors, a talent show and discussions on how to make our communities more integrated.
The holiday is a celebration of the victory of a small Mexican army against the French in a battle in Puebla, Mexico, Laws said.
"It was pretty much a miraculous defeat because the size of the army was so small."
As a way of getting the local community more involved in the festival, Comunidad Integrada put together a talent show of nine different acts.
"We didn't put any restrictions on the entries into the talent show," Laws said. "We have music, traditional folkloric Mexican dancing, salsa dancing and poetry. There's a poem from Colombia, a poem from Chile and a poem Patricia Chacon wrote herself to dedicate to her parents."
Attendees can also expect to hear a Mariachi band and have the opportunity to visit local nonprofits' booths to learn about their services, or engage in games for children.
A new addition to this year's Cinco de Mayo celebration is the "World Cafe," which is a process that allows participants to meet new people and share ideas.
"It is an event that is part of a project in which we invite people to participate in an hour to an hour and a half input process, and have conversations around community integration," Laws said. "And what that should look like in their community."
The ideas assimilated from this procedure will be put into a plan that The Colorado Trust will fund for four years.
"It seems really simple, but ends up being pretty magical," Laws said. "It has been really amazing to see what comes out of having these conversations."
The most important thing Laws wants to stress about this festival is that it is for everyone, regardless of their cultural heritage.
"The purpose is to bring people together," Laws said. "It's a chance to learn about a different culture, try some new food and hear some new music."