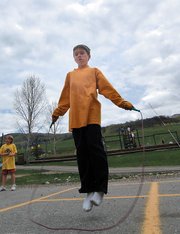 Steamboat Springs — It doesn't take much to get Zephyr Lacey jumping.
"He's always positive, moving around like the wind," Strawberry Park Elementary School physical education instructor Sameta Rush said of Lacey. "He's just the coolest kid, and he's always wanting to do something good."
It also doesn't take much to get the nine-year-old boy - the same boy who has his birthday party guests make donations to organizations like the Maui-based Whale Trust in place of gifts - to find ways to raise money for charity.
Last year, Lacey set a $300 goal for his school's annual Jump Rope for Heart event that raises funds for the American Heart Association. He ended up as Strawberry Park's top fundraiser for the national program with $480.
Having lost his grandfather that year to heart disease, Lacey decided to set his pledge sights a little higher, to the $1,000 mark.
"My Aunt Brenda in California asked everyone at her work and then I raised $445 by asking my neighbors and asking some businesses to donate because it was a good cause," Lacey said. "I actually got $1,010, but one of my neighbors paid after the day we jumped."
Lacey's efforts helped his third-grade class to the highest school total and to what Rush said was a new Steamboat school record - breaking Bo Yennie's old record of $9,000 by $2,000.
But it's not just about the money for Lacey.
"My Dad taught me a certain way to build up my speed to jump faster - I went 64 times without stopping," Lacey said. "I'd recommend jump roping because it helps to coordinate between the leg and the foot and your eye."
"He's a jumping machine - from speed jumping, hot pepper to the double," said Rush. She integrates the program into her jumping unit and plans to distribute the awards from the March 28 Jump Off, on Friday morning in the Strawberry Park gym.
- To reach Dave Shively, call 871-4253
or e-mail dshively@steamboatpilot.com