Breaking News Alerts
Want breaking news from steamboatpilot.com sent to your e-mail or cell phone? It's free and easy to sign up: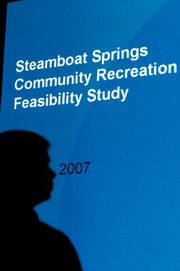 On the 'Net
Learn more about local recreation news on a city-sponsored Web page at: www.steamboatrecr.... Learn about the consultants who recently completed a study of local recreation options at: www.GreenPlayLLC.com, and www.brsarch.com. Read "Dialogue Before Decision" articles about recreation issues, created by the 14th annual Leadership Steamboat class, at: www.steamboat-cha...
Steamboat Springs — Ski Town Fields would provide the best site for a new recreation center in Steamboat Springs, a consultant hired by the city said Wednesday.
"That's the area that I think has the most potential," said Chuck Musgrave, of the Denver firm Barker Rinker Seacat Architecture, speaking to a crowd of about 50 gathered at Steamboat Mountain Theater to discuss recreation issues. Musgrave said the Ski Town site, adjacent to the Tennis Center at Steamboat Springs on Pine Grove Road, offers "great access" from U.S. Highway 40, potential shared parking with the Tennis Center and ample room for a consolidated recreation building with facilities such as a youth and teen center, indoor pool, running track and climbing wall.
But Musgrave acknowledged booming growth and resulting high demand for construction in the city - what he called "the Steamboat factor" - means a recreation center won't come cheap.
Building at the Ski Town site would cost an estimated $15.7 million, he said, a number that could rise depending on added facilities. While that price tag is close to the estimated $15.9 million for a recreation center at Rita Valentine Park, between Anglers Drive and Hilltop Parkway, Musgrave noted use of the Rita Valentine site has drawn significant opposition from homeowners in the area, and could also create traffic concerns.
Musgrave and Chris Dropinski of the Broomfield firm Greenplay, LLC, also presented findings Wednesday about the possible use of sites at Howelsen Hill, Strawberry Park Elementary School and the downtown U.S. Post Office at Third Street and Lincoln Avenue.
Musgrave said because the city would need to buy land to relocate the post office, and also buy the post office site itself, the cost of a downtown recreation center could reach $42 million. As for Howelsen, Musgrave and Dropinski listed a cost of about $22 million and noted the site's already heavy use, especially during high-traffic afternoon and evening hours.
"We're not sure we should be adding more to that site," Musgrave said.
While a gymnasium at Strawberry Park would cost $7 million, Musgrave questioned whether building such a facility is in the best interests of the Steamboat Springs School District.
Sam Rush, a physical education teacher at Strawberry Park, said the school's current gymnasium - a carpeted concrete floor used for several school functions - is far from adequate.
"I sometimes have to wait 10 to 15 minutes to get into the gym with kids because they're still cleaning up from lunch," Rush said. "And with the addition we're building, the problems are only going to increase."
Other attendees at Wednesday's forum expressed concerns about the city's immediate need for expanded youth facilities, questioned the impact a new recreation center could have on local property values and asked whether an expensive new building is needed given Steamboat's existing resources, such as the Old Town Hot Springs and athletic fields at Howelsen Hill and Ski Town.
Gypsum Town Council member Tom Edwards said Gypsum's $12 million recreation center, which opened in December, already has exceeded membership expectations and more than met needs for local youth.
Wednesday's forum was hosted by the 14th annual Leadership Steamboat class, which also has published a series of articles in the Steamboat Today to spur local dialogue about recreation issues.
The consultants began their study in February.
"We'll be elaborating in a lot more detail at the (Steamboat Springs) City Council meeting May 8," Musgrave said.
- To reach Mike Lawrence, call 871-4203
or e-mail mlawrence@steamboatpilot.com