Liquor licenses considered
City Council discusses three new downtown permits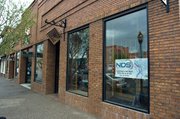 If you go
What: Steamboat Springs Liquor License Authority meeting
When: Noon today
Where: Citizens' Meeting Room, Centennial Hall, 124 10th St.
Steamboat Springs — Geek's Garage owner Lori Bourgeois remembers the days when picking up a six-pack after work was as easy as walking next door.
However, since The Bottleneck, Go-Fer Foods and Rocky Mountain Wine and Liquor Co., have closed, there are no retail businesses on the Lincoln Avenue corridor selling alcohol.
That's a problem Bourgeois and her business partner, Stephanie Reineke, are hoping to fix by opening a new retail liquor store, Vino Downtown, below Geek's Garage. They also hope to provide an assortment of alcoholic drinks along with food at The Garage Bar at Geek's Garage. Geek's Garage currently does not serve alcohol drinks. Sweet Pea Produce on Yampa Street also is applying for a retail liquor license.
At today's Steamboat Springs Liquor License Authority meeting, the City Council likely will schedule a public hearing at 5 p.m., June 5, for residents to speak in favor of or against the businesses selling alcohol. The hearing represents one step in granting the three liquor licenses.
City Clerk Julie Jordan said all three businesses that are applying for a liquor license are located in the downtown neighborhood, one of the four designated neighborhoods within city limits. The other neighborhoods are west Steamboat Springs, U.S. Highway 40 and the mountain area.
"The public hearings give people the opportunity to file a complaint or ask questions why there's a need for a liquor store in the particular area," Jordan said. "It also gives the applicant the opportunity to solicit for support."
Bourgeois believes providing the downtown area with a liquor store and an expanded line of beverages at Geek's Garage would fill a niche that has been empty.
"We felt it when (The Bottleneck) closed and we started talking about it and said, 'Gosh, we need this downtown,'" she said. "It's looking very optimistic right now. We're very excited to move forward."
Jordan said if the council grants the three liquor licenses, it would bring the total number of liquor selling businesses in the city to about 90, or one liquor license per 100 people.
"Resort communities are famous for having liquor at all eating establishments," she said. "Being in such a community, we find that the people who own these businesses in order to draw customers have to have alcohol available."
Rocky Mountain Wine and Liquor, which has been torn down, will not see its liquor license expire for another year, Jordan said, meaning the business potentially could resume selling alcohol once it is rebuilt.