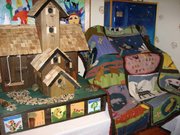 If you go
What: Lowell Whiteman Primary School "Kids Are Our Bag" spring auction
When: 6 p.m. Saturday
Where: Lowell Whiteman Primary School, 818 Oak St.
Cost: $40
Call: For more information or to purchase tickets, call 879-8081
Steamboat Springs — While any non-profit organization in the Yampa Valley will tell you fundraising often is a daunting task, it's a little easier when you delegate the task to students.
The theme for the 14th annual Lowell Whiteman Primary School Spring Auction is "Kids Are Our Bag," which accurately describes the school's passion for its student body.
"This is our big event for the year," said Head of School Nancy Spillane. "While our goal is to fundraise for the upcoming year, we also see the evening as a time to express our gratitude to the community members who have so graciously supported us over the years."
Saturday's event begins at 6 p.m. and features hors d'oeuvres and adult beverages as well as both silent and live auctions.
"The highlight of the silent auction this year will be the class projects," said event co-organizer Gina Zedeck. "Five classes have worked together, along with parent volunteers, to design and create unique, and in some cases functional, works of art."
Christina McLean, who volunteers with the school, said the students put a lot of hard work into their creations.
"They designed it, they stitched it, they worked really hard on it," she said of an animal-themed quilt that is up for bid.
The monies raised from the auction, which typically reach $50,000, go towards scholarship assistance for the students.
About 28 percent of the students receive some scholarship assistance from the fundraiser.
"The entire school community gets behind (the auction) from donating items, organizing and sponsoring the event, seeking out donations, attending the event and selling tickets," McLean said.
Lowell Whiteman Primary School is a nonprofit, independent school that serves students in kindergarten through eighth-grade. The school was founded in 1993.
- To reach Alexis DeLaCruz, call 871-4234
or e-mail adelacruz@steamboatpilot.com