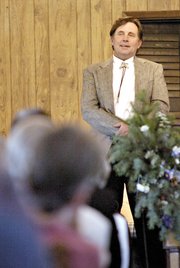 Mike Lawrence
Call Mike Lawrence at 871-4203 or e-mail
mlawrence@steamboatpilot.com
.
I can't imagine a finer eulogy. Or for that matter, a finer elegy.
Before an overflowing, bring-in-the-extra-chairs crowd at the First Baptist Church on Saturday, Grace May Chew read a short poem about her late father, William Bowie May (or "Wild Bill from the Hill," by which he was also known, she said.)
Breezes blew into the church on the gorgeous April afternoon. It was the kind of day that would have seen Bill May jumping onto a horse. Meanwhile, the crowd in the pews bounced toddlers on the knees of their Levis, crossed one dirty work boot over the other, sang songs and shared numerous stories about a man who could never tell enough.
It was a fitting tribute.
Grace spoke about the "many hats" her father wore as a soldier, a cowboy, a world-traveler, a testifier before Congress, a Western poet and a prolific writer.
Then she said these words about Bill May:
"Under all these hats, three things ran true. He said what he meant, he meant what he said, and he did what he said he would do."
We could all hope to have the same words said about ourselves one day.
That's all I'm going to say, for now, about Bill May. Tom Ross spoke about him very well in yesterday's newspaper. Instead, I'm going to say a little about how May's ethic of simple truth can be hard to find these days.
This is, after all, a column about politics.
The state Legislature today begins the final week of this year's session, scheduled to "adjourn sine die" May 9 at the Capitol in Denver. The biggest battle of the session's closing days, if not of the entire five months, is about a Gov. Ritter-endorsed provision in this year's School Finance Bill, or Senate Bill 199. The bill cleared the state Senate on Tuesday and now awaits Ritter's signature.
The controversial provision would boost funding for K-12 schools statewide by an estimated $55 million annually, starting in 2008. The money would come from a "freezing" of property taxes in school districts statewide. Colorado schools are funded by a combination of local property taxes and state dollars.
The bill would overturn part of a 1994 school finance law that created reductions of local, school-related property taxes. Ending the reductions would save more money for Colorado schools. That money would come from property owners.
Many Republicans, including House Majority Leader Mike May of Parker and state Attorney General John Suthers, are calling the bill a tax increase that must be approved by a statewide vote, according to the 1992 Taxpayer's Bill of Rights.
Proponents of the bill argue that not only have 175 of Colorado's 178 school districts already voted out of TABOR regulations, but also that the bill is not a tax increase. Instead, they say, it's a cancellation of tax reductions.
Sound familiar? A nearly identical philosophical argument arose during the 2005 debate about Referendum C, a voter-approved measure that allows the state to keep surplus tax revenues that would have gone to taxpayers.
Is taking away a surplus refund the same as increasing taxes?
Is canceling tax reductions the same as increasing taxes?
The Legislature's legal counsel has ruled the bill does not constitute a "direct" tax increase, and thus does not require a statewide vote.
El Paso County Commis-sioner and TABOR author Douglas Bruce has said he will sue if Ritter signs the School Finance Bill into law.
Whatever the eventual outcome, you can bet you'll hear about this bill again, in upcoming campaigns for both parties - either as what saved Colorado education or as what needlessly drove up property taxes for Colorado citizens.
Routt County Commissioner Doug Monger went to school with Bill May's children. He said Monday that May "was a man in a previous generation:who probably wished he was born in a less intense time."
I can't say that I blame Wild Bill. These days, simple truths are hard to find.
- To reach Mike Lawrence, call 871-4203
or e-mail mlawrence@steamboatpilot.com