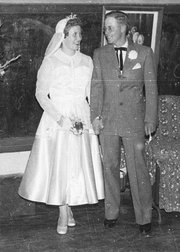 Longtime columnists
Northwest Colorado lost a couple of genuine characters last month with the passing of cowboy poet Bill May and Rilla Wiggins, the scribe of Hahn's Peak Village.
I'll never forget my interaction with Rilla, who used to send me three pages of yellow paper torn from a legal pad each week. They were filled with her handwritten observations about summers at the foot of Hahn's Peak. The newspaper published them for 17 years.
No one could match Rilla's keen observations of the cyclical changes that marked spring, summer and early fall in North Routt.
We loved her for her devotion to the community and to our newspaper.
Rilla was famous for the pink Jeep she used often to drive nearly to the 10,000-foot summit of Hahn's Peak.
Bill was less famous for his sports car, but it was just as bright as Rilla's and its story follows.
This is the tale of how a Routt County cowboy used a bright red British sports car to woo a Northeast New Mexico gal.
If you've been hanging around Routt County for a couple of decades, you can probably conjure up an image of Bill May astride a quarter horse, trailing cattle. Or maybe you knew him better sitting on a hay bale with a guitar on his lap. You're a whole lot less likely to envision him behind the wheel of a cherry red, two-seater sports car, burnin' up some New Mexico asphalt on his honeymoon in 1954.
Bill May left us on April 9 and with him, he took an immeasurable storehouse of this region's lore. I'm glad to have known him, and I want to tell a story he and his wife, Cynthia, shared with me more than a decade ago.
Bill and Cynthia were married on June 26, 1954. Cynthia's uncle, Clyde Stonebrink, was Bill's brother-in-law. And that explains how a New Mexico girl met a rancher from Colorado's Elk River Valley.
However, it took a two-seater MG convertible to seal the deal. The couple told me all abut their courtship in a January 1996 interview.
Cynthia was introduced to Bill in the living room of his parents' home on the lower Elk River. He was smitten and quickly asked for a date before she could return to her home on a ranch outside Clayton, N.M.
"He took me to a barn dance on the top floor of Stetson's barn," Cynthia recalled. This barn that belonged to Frank Stetson Sr., was known all over the county because the loft had a hardwood floor laid out in a diamond pattern.
"You could dance on that floor all night long and not get tired," Bill told me.
The dance must have gone well. Cynthia was intrigued enough with the wiry young man that she invited him to a school dance after her return to New Mexico. He was intrigued enough to make the 1,000-mile roundtrip.
No, the trip wasn't made in the red MG. The little sports car didn't come into the picture until later. For quite some time, the couple pursued a long-distance romance.
"We'd write all these mushy, mushy letters," Cynthia confessed.
Bill was drafted during the Korean War but didn't serve in Asia. Instead, he served in the European occupation army.
Before he shipped out, he wanted to ask Cynthia a question.
"I came home and got engaged," Bill said.
While in Germany, Bill was careful with his money, but managed to travel all over the continent. Meanwhile, Cynthia was attending New Mexico A&M in Las Cruces and making wedding plans.
Bill had saved enough to purchase an impractical automobile to impress his fiance upon his return. He shipped the red MG home.
"You'll never guess what he did with it next," Cynthia said. "He let me keep it at college."
If there was any doubt the couple would pick up where they had left off, the hot little car erased it.
The wedding was held in the schoolhouse in Sofia, N.M., at 2 p.m. on June 26, 1954.
Bill's mother, Anna, attended, but his father, Fred, felt obligated to stay home and irrigate the hay meadows.
Bill was a little worried they'd become the victims of a traditional New Mexican "chivaree," but they skipped out of town in the sports car before Cynthia could be wheeled down the main street in a wheelbarrow.
After a reception, Bill and Cynthia hopped back in the MG and drove to Canada for their honeymoon. The next Christmas the two-seater took them all the way to Mexico, but they weren't destined to stay together.
Let me rephrase that - Bill and Cynthia stayed together - they would have celebrated their 53rd wedding anniversary in June.
It was the little red car that was about to disappear from their lives. The couple traded it in Tucson, Ariz., for a station wagon and a Jeep.
Via con dios Bill May.