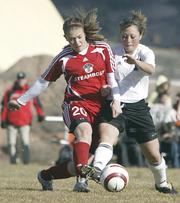 Steamboat Springs — The Steamboat Springs girls soccer team opened up its two-day road trip with a 4-1 win against Eagle Valley, Friday in Gypsum, by scoring early and often.
To the Sailors, early means the first 30 seconds.
"They had the kickoff, but we won the ball," Steamboat coach Rob Bohlmann said of Carly Earp's instant counter-attack and pass to Lauren Letson, who easily finished her one-on-one opportunity with the Eagle Valley goalkeeper.
But in the teams' second meeting of the season, Eagle Valley brought a little more game than it did to the March 15 game at Gardner Field that ended in a lopsided Steamboat shutout.
The Devils answered and quickly tied up the game at one.
"Eagle Valley played well, with a lot of spirit and gave us a match for 80 minutes," Bohlmann said. "We never had the game totally in control."
Steamboat was able to regain the lead before the half on a goal from Earp, who volleyed in a pass from Emily Birch.
In the second half, Steamboat extended its lead by improving aspects like possession time, off-ball work and "consistent rhythm," that Bohlmann has been stressing throughout the season.
In a replay of the girls' Tuesday game against Rifle, Miranda Schrock sent Mandi DeVos a pass from midfield that she took on a breakaway and scored.
Then with 12 minutes to go in the game, Abbey Lewis sealed the win with "a calm, cool and collected, textbook finish," on a ball from Letson.
Steamboat goalkeeper Hanna Berglund had seven saves in the game.
"The defense did well and when we didn't have the ball, it was 11 players defending tight and it was 11 players attacking together when we did," Bohlmann said. "We're working on the big picture well."
Steamboat (5-1) travels to Delta for an 11 a.m. game today.