Reiter, Steamboat riders race to top at NorAm finals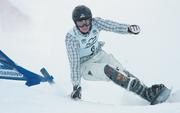 Steamboat Springs — This was a good year for Steamboat Springs snowboarder Justin Reiter, but the veteran Alpine snowboarder isn't about to predict what lies ahead.
"Right now, I'm taking it year to year," Reiter said. "The Olympics are still a goal, but only as long as I'm enjoying myself and growing with the sport."
The U.S. Ski Team rider said he wants to avoid the pressures he felt leading into the 2006 Olympic Games in Italy. Reiter said he spent three and a half years planning and working toward those games, and was crushed when he didn't make the final cut.
"It's dangerous to focus on a single goal like that," Reiter said. "You become so consumed with reaching that one pinnacle, and you miss all the great stuff that happens along the way."
Reiter had plenty of great things to celebrate this season. In February, he raced to a sixth-place finish at a World Cup race in Shukolove, Russia. In January, he placed 11th at the World Snowboarding Championships in Switzerland and was second in a Race to the Cup event in Copper Mountain in November.
"Justin showed a lot of internal pride this season," said Thedo Remmelink, Steamboat Springs Winter Sports Club coach. "Not going to the Olympics was very hard on him, but he has come back and is riding faster than he ever has."
Reiter was among several top Steamboat finishers at the NorAm finals at Sunshine Village in Alberta, Canada, two weeks ago. The event marked the end of the NorAm tour, and also was used to crown the 2007 Canadian and American national champions.
In the parallel giant slalom, the marquee event among the world's top riders, Reiter raced to a third-place finish. Canadian Jasey Jay Anderson won the event by racing past American Chris Klug in the finals. Klug, however, took home the U.S. National title for his efforts. Reiter, who won the title last year, was the second American rider to cross the finish line.
Steamboat's Tyler Jewell was fifth; Philippe Berube, a Canadian who spent a year training in Steamboat, was sixth; Vic Wild was seventh; and Josh Wylie was 10th. Steamboat riders Zac Kay (11th), Darren Ratcliffe (12th) and Patrick Farrell (15th) also took part in the race.
Austria's Doris Guenther topped the women's race and was followed by a pair of Canadians. Lilian Halme was second, and Christell Doyon was third. American Lindsay Lloyd was fourth, former Winter Sports Club rider Michelle Gorgone was fifth and Steamboat's Erica Mueller was seventh.
Anderson also won the parallel slalom event with Klug on his heels. Farrell was third, and Vic Wild came in fourth. Reiter placed fifth, Berube was sixth and Wylie was eighth. Kay (10th), Jewell (11th) and Ratcliffe (13th).
Gorgone won the women's race, followed by several other racers with ties to Steamboat.
Kimiko Zakreski was second, and Caroline Calve was third. Both racers spent a year training in Steamboat before being recalled to the Canadian national team. Mueller finished fourth, but was the second American to cross the finish line.
Remmelink was impressed with several of the Steamboat team's younger riders as well.
Michael Trapp earned the junior national titles in both the slalom and giant slalom events. His Steamboat teammate Madeline Wiencke took top honors in the women's junior slalom and giant slalom classes.
-To reach John F. Russell call 871-4209
or e-mail jrussell@steamboatpilot.com