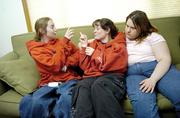 Jaimee Sexton said the best thing about living in her new home is she gets to decorate her room in different ways.
Sexton and Jamie Kaminski moved into a Horizons Specialized Services group home in December 2006, and their third roommate, Rhianna Gifford, moved in a month later. Their house is the second group home Horizons has opened since it began receiving funding from a mill levy approved by Routt County voters in 2005.
The mill levy raises $857,000 a year for Horizons, a nonprofit organization that provides services to people with developmental disabilities in five counties in Northwest Colorado.
The mill levy funds can be used only on programs that serve Routt County, because it is the only county that has the tax.
"We were able to take four individuals who were waiting to come into our residential program off the list," said Kay Borvansky, resource development coordinator for Horizons. "We created two new group homes and took three individuals who were on the waiting list and began providing supportive living services to those individuals."
Also, five families who have children at home with developmental delays or disabilities were able to receive family support money.
"It is monies that help with mostly the cost of medical things that aren't covered by insurance, such as travel expenses," Borvansky said.
Horizons also has used the funds to supplement its early intervention program.
"If a child is identified as needing therapies for a developmental delay or disability, we will never turn them away," Borvansky said. "In 2005, we had 68 children who needed intervention therapy and only had funding for 27 of them. We had to supplement with fundraising and individual donations."
One of the stipulations of receiving the mill levy income is Horizons agreed to cease fundraising efforts. That cost the agency about $140,000 per year.
"But the mill levy dollars compensated for that," Borvansky said. "There are so many things we were able to do because of those mill levy dollars that woul-dn't have happened otherwise."
Horizons replaced a van and completed some much-needed maintenance. Staff retention has increased as the agency has hired new employees at higher wages.
Borvansky said Sexton, Kaminski and Gifford have a great time together and really enjoy the staff members that live with them 24 hours a day.
"One mom said her daughter has become much more self sufficient, keeps her room clean and helps with the cooking," she said. "It's good for the families too, to see their daughter succeed."