State keeping eye on county
Routt still may end up on Colorado election watch list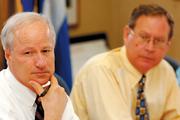 Steamboat Springs — Local election officials received praise and a warning from the state Thursday.
Four months after Routt County's calamitous November election, which saw hundreds of local voters wait for hours in long lines, Colorado Secretary of State Mike Coffman visited Steamboat Springs to assess the work being done to improve future elections. While Coffman said Routt County is "on the borderline" for addition to the state's Election Watch List, which requires state monitoring of the next countywide election, he also praised the recent work of the Routt County Citizens Election Review Committee, led by local attorney Mark Fischer and Routt County Clerk and Recorder Kay Weinland.
"I'm very impressed with how much effort and how much initiative went into assessing the problem right after the election," Coffman said. "I have every confidence in Kay's ability to move forward on this : I have very high expectations. I certainly hope to look to Routt County on a statewide basis as an example of best practices."
Coffman defeated state Sen. Ken Gordon, D-Denver, in November to become Colorado's new secretary of state. He has placed four counties - Denver, Douglas, Montrose and Pueblo - on the watch list due to election difficulties last fall. Although state law allows Coffman to enact court-ordered supervision of any county election, Coffman said "that's not going to happen" in Routt County.
"There was no violation of law that occurred in the Routt County election," Coffman said.
He added that court-ordered supervision is not a step he hopes to take anywhere in Colorado.
"In each county on the watch list that I've been to, I've seen a similar process (to Routt). I've got confidence they're moving forward," Coffman said. "The problems in Routt are less than the problems in other counties."
Coffman said he will decide next week whether to place Routt County on the watch list.
Weinland downplayed the decision.
"Being on the watch list or not on the watch list isn't going to change anything we're doing," Weinland said. "We're already working on these issues."
On Thursday, at its final meeting until late summer, the election review committee established its recommendations to the Routt County Board of Commissioners.
Leading the list will be a request for 15 to 20 new electronic voting machines this year, and additional purchases - for a total of 35 new machines - before the presidential election in 2008.
Routt County used 35 direct-record electronic voting mach-ines in the November election. Manufactured by Texas-based company Hart InterCivic, the machines cost about $3,500 each.
"I think anything is in the realm of possibility," Commissioner Nancy Stahoviak said of county expenditures to improve elections.
A total of 7,845 Routt County voters participated in the 2006 election. Of those, about 3,800 voted with early or absentee ballots, meaning about 4,000 voters cast a ballot on Election Day, at one of eight vote centers in Routt County.
In the 2004 presidential election, about 11,500 people voted in Routt County.
Weinland said adding more vote centers will be a priority for coming elections. She said Mike Knezevich, principal of Steamboat Springs High School, has agreed to allow use of the high school's gymnasium as a "super vote center" - with as many as 12 voting machines - in 2007 and beyond.
The city of Steamboat Springs will allow use of Centennial Hall as a vote center in downtown Steamboat.
The election review committee also will recommend county commissioners expand early voting hours; raise awareness of mail-in voting; and increase staffing and training of election judges at vote centers.
Fischer also stressed the importance of having a Hart InterCivic technician available solely to Routt County. In November, one technician covered all of Northwest Colorado and could not immediately address malfunctions - primarily related to loading paper for the machines' back-up recording systems - in Routt County.
"There's no question that we want on-site technical support," Fischer said.
Members of the review committee are scheduled to present recommendations to county commissioners April 17.
Coffman said leading up to a 2008 presidential election he called "critical to this country," how to fix local elections will be decided by Routt County, not the state.
"My concern is that the wait times are not such that voters turn away - that is the breaking point I'm going to look at," Coffman said. "How you get there will be a local issue."
- To reach Mike Lawrence, call 871-4203
or e-mail mlawrence@steamboatpilot.com