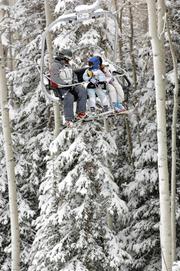 Steamboat Springs — The warm weather and sunny skies that have dominated the past couple of weeks in Steamboat Springs finally made way for some precipitation.
Between 5 and 10 inches of snow - lower amounts in town, higher amounts on the mountain - fell Wednesday afternoon and Thursday in Steamboat. The chance for more precipitation exists throughout the weekend and into next week.
"We're still seeing a very complex lower-pressure system that's supposed to remain until Friday night," said Jim Daniels, a meteorologist for the National Weather Service in Grand Junction.
Daniels said Steamboat has the chance of receiving a couple of inches of snow today and early Saturday.
"Really, the best way to describe it is occasional showers," he said.
Warmer weather should return Monday with highs in the 50s. While weather systems look like they are less active next week, Daniels said a low pressure system is moving in but should stay to the north of Colorado. He said there is a minor chance of precipitation on Sunday and into Monday as well as Wednesday into Thursday.
As far as an extended forecast, Daniels said April calls for higher temperatures than normal with average precipitation.
"I think the latest weather reports show the temperature average to a little above normal," Daniels said. "The precipitation doesn't seem to be above or below average."
With the warm weather, the flow of the Yampa River has seen a spike. On Thursday afternoon, the U.S. Geological Survey gauge on the Yampa River in Steamboat Springs read 519 cubic feet per second, more than 300 CFS higher than normal.
Kevin McBride, district engineer for the Upper Yampa Water Conservancy District, said a site in the Flat Tops that measures water content in the snowpack, was as low Thursday as it has been since the sites were installed in 1987.
"It's a fair assessment to say that unless we get some significant precipitation," he said, "it will be a low year for water - below average."
- To reach Luke Graham, call 871-4229
or e-mail lgraham@steamboatpilot.com