Locals 2007: Mike Forney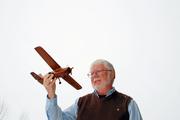 Mike Forney can - and will - walk you through the finer points of how he executes an instrument landing on remote mountain airstrips in his Cessna 182H.
"I'm a process guy," Forney said, revealing the basic drive behind his passion for precision flying and his wide range of volunteer service in the Yampa Valley.
Forney "broke free" from a long career in public relations for AT&T and as the leader of a mortgage banking company and moved to Steamboat Springs in 2002.
Forney soon became involved with Routt County United Way, the Steamboat Springs Rotary Club and the Steamboat Springs Chamber Resort Association's Economic Development Council.
"The chance to harness all the economic energy people bring here is exciting stuff," Forney said.
The desire to pass on his business know-how led Forney to become one of Main Street Steamboat Springs' founding members and a senior counselor for SCORE, which helps potential and existing entrepreneurs.
Even as president of Routt County United Way, a member of the Yampa Valley Airport Commission and the future president of the Rotary Club, Forney still finds time to make weekly flights in his plane. He often partakes in missions for Angel Flight, which arranges free flights for charitable or medical-related needs.
When working with SCORE, Forney often helps budding business owners distill their missions into a 30-second "elevator speech." When asked what his speech is now, Forney's answer is the question of outcome:
"I want to help people anticipate things from an economic angle, live comfortably and generate the income to do so without impacting the well-being of others. You need to listen to what drives the community, ask how can we be more efficient, capitalize on our resources and focus on what is our primary purpose."