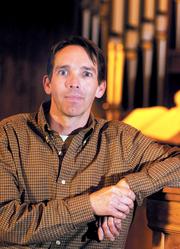 Steamboat Springs — Through international travel and mission work, Tim Selby has helped open the eyes of some of Steamboat Springs' youngest philanthropists.
Selby, a pastoral associate at United Methodist Church of Steamboat Springs, has taken interested church youths to such places as Mexico, Puerto Rico and Brooklyn, N.Y., to build housing projects and orphanages and experience life in other churches.
"With our mission work, we try to experience different cultures and places in an effort to expand their horizons," Selby said. "It's one of the biggest things we do with our kids."
The church's next trip is in June, when a group of youths will head to Guatemala for nine days. The goal of travel and mission work is directly related to the spiritual teachings of the church, Selby said.
"This is to help them explore their spiritual life in a deeper manner, to explore the Christian life and to grow in it," he said.
Beyond his mission work, Selby tries to develop meaningful relationships with the younger members of his congregation. Encouragement is particularly important to him.
"It's important as kids to try and understand who they are in this world, and that we can help them understand the great things they can do," he said.
"We like to explore the mysteries of life," he added. "We're not here to give them all the answers, because I don't have them, either."
Alyssa Walter, a junior at Steamboat Springs High School, has been a member of the church for eight years and has traveled with Selby on mission trips to New York and Tijuana. She also plans to take part in the upcoming mission to Guatemala.
"(Selby) does a really good job of getting us involved," she said. "He's more than just a religious leader. He's like another parent to us for what he does."